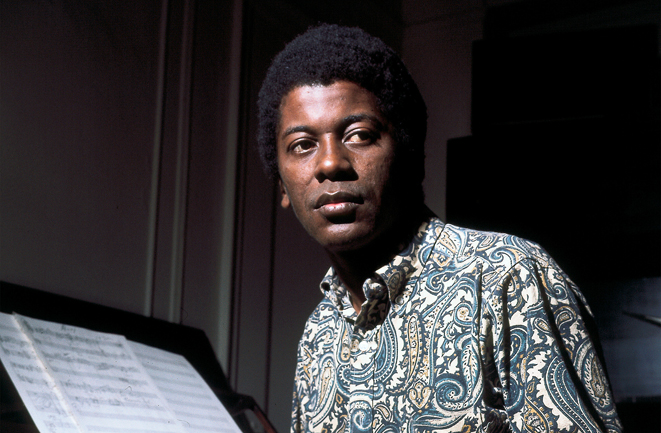 Andrew Hill is hailed as a great jazz innovator, at least amongst fellow musicians, and increasingly by aficionados in the know. His "fiendishly constructed, uncategorizable" compositions investigated novel territories of rhythmic and harmonic complexity that connected existing styles and paved the way for new forms.
"Andrew Hill is, without a doubt, one of the most important composers in the history of jazz music. His innovations in the harmonic structure, as well as his complex rhythmic shifts helped to pave the way for jazz musicians for decades to come." Joel Freimark.
Born in Chicago in 1931, Andrew Hill grew up singing, playing accordion, tap dancing, and appearing in local talent shows, but focussed on learning piano blues from age 13. Jazz composer Bill Russo introduced him to celebrated classical composer Paul Hindemith with whom Hill studied between 1950-52.
By 15 years old, Hill was playing in Paul Williams' R&B group, and sitting in with visiting bands, notably Miles Davis and Charlie Parker. He received encouragement from Earl Hines, became acquainted with Barry Harris, and was mostly influenced by Bud Powell, Art Tatum, and especially Thelonious Monk.
Touring as Dinah Washington's accompanist from 1961, Hill settled in New York where he attracted the attention of Alfred Lion while a sideman for a Joe Henderson session in September 1963, and came to prominence from his recordings with Blue Note. There was a two year appointment with Roland Kirk in Los Angeles, before an extended period of recording and performance, along with various repertory and academic residencies, in New York and elsewhere, notably an associate professorship in Portland that produced The American Nikkei Symphony, "a symphonic interpretation of a century of immigrant Japanese experience in America".
Of his recordings made as leader, Point of Departure is the probably the most renowned. It was recorded on March 21, 1964, in a single session, notably only a month after Eric Dolphy's seminal Out to Lunch. As Hill's title suggests, his is a further move into avant-garde domains which had been mapped out in the preceding decade by the atonal and dissonant experimentations of Ornette Coleman, Cecil Taylor and Sun Ra. While these others could sound chaotic and random, Hill's compositions formed a more tailored avant-gardism that eschewed their "noise element", creating an exposition that bridged the gaps being created between bebop and this new sound.
A change of direction and a new quintet saw his successful return to Blue Note in the late '80s, and he continued to write and perform until the month before his death in April 2007 following a long bout of lung cancer. His last release, Time Lines (2006), was voted Best Jazz Album by Down Beat magazine. Before he died, he was inducted into Down Beat's Hall of Fame, and signed with Boosey & Hawkes, publishers of Stravinsky and Copland and Chick Corea. In May 2007, he became the first person to receive a posthumous honorary doctorate from Berklee College of Music, and in 2008 he was awarded the highest accolade the title of NEA Jazz Master, by the National Endowment for the Arts.
Videos
Andrew Hill 1991 - Here's That Rainy Day