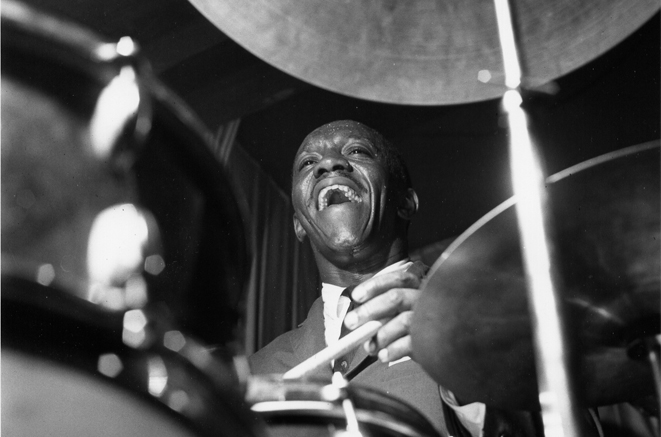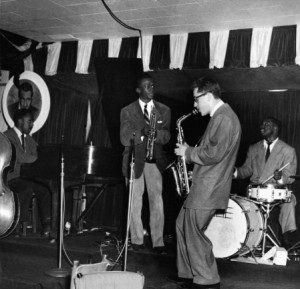 Art Blakey was a formidable musician, evident from the enormous number of recordings on which his playing is recognisably distinctive, playing alongside, Charlie Parker, Miles Davis, Thelonious Monk, Fats Navarro, Billy Charlie Rouse, Tadd Dameron, Eckstine and Sarah Vaughan, Dizzy Gillespie, Idrees Sulieman, Walter Bishop Jr., Earl Coleman, Bennie Green, J.J. Johnson, Stan Getz, Gene Ammons, James Moody, Sonny Stitt, Kenny Dorham, Dexter Gordon, Ike Quebec, Paul Quinichette, Milt Jackson, Percy Heath, well, the list seems endless, like a Who's Who of Big Band and Bebop.
That alone would be sufficient in qualifying him for legendary status, but there was also the Jazz Messengers. Blakey was a great band leader and talent spotter, and despite his more reserved, traditional leanings, where he might have been content to stick to standards, he was still able to influence several upcoming stars, generously nurturing their playing and writing, in the new directions that they were spearheading.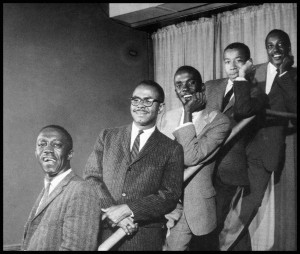 Passing threw those ranks, often as a stepping stone to further fame of their own making, and sometimes headhunted by Miles Davis and other discerning band leaders, is a perhaps unequalled pantheon of jazzmen: Dale Barlow, Mickey Bass, Terence Blanchard, Donald Brown, Bobby Broom, Donald Byrd, Steve Davis, Spanky DeBrest, Sam Dockery, Kenny Dorham, Robin Eubanks, Charles Fambrough, Curtis Fuller, Carlos Garnett, John Gilmore, Benny Golson, Benny Green, Johnny Griffin, Bill Hardman, Donald Harrison, Philip Harper, John Hicks, Freddie Hubbard, Dennis Irwin, Javon Jackson, Carter Jefferson, Geoffrey Keezer, Frank Lacy, Brian Lynch, Wynton Marsalis, Branford Marsalis, Jackie McLean, Jymie Merritt, Mulgrew Miller, Hank Mobley, Lee Morgan, Essiet Okon Essiet, Billy Pierce, Lonnie Plaxico, Valery Ponomarev, Wallace Roney, Gregory Charles Royal, David Schnitter, Woody Shaw, Clarence Seay, Wayne Shorter, Horace Silver, Victor Sproles, Bobby Timmons, Jean Toussaint, Cedar Walton, Peter Washington, Doug Watkins, Bobby Watson, James Williams, and Reggie Workman,
Such was the reputation of the Jazz Messengers that membership almost became obligatory as a right of passage. In the vein of Miles Davis, Duke Ellington and Count Basie, Blakey passed on his legacy to several generations of jazz musicians throughout his very nearly, five-decade career.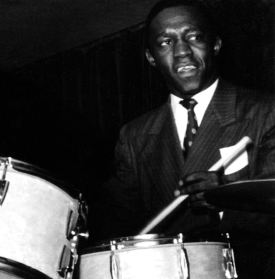 Biographical accounts diverge in the details of Art Blakey's life, but there are common points, and this version begins where they all begin: Arthur Blakey was born on October 11, 1919 in Pittsburgh, Pennsylvania and fostered by a devoutly religious family, along with his siblings when their mother died. His studies at home revolved around religion and the piano, and like many jazz musicians, Blakey began his musical education by performing during church services.
By the seventh grade, Blakey was leading his own band and performing every night, after each day spent working at a steel mill on the outside of town. This way, he would spend his evenings at local clubs, performing and listening to the city's roster of musical talent. On one occasion, hearing pianist Erroll Garner, Blakey was blown away. Almost literally. If the legend is true, the owner of the Democratic Club forced Blakey at gunpoint to switch from piano to drums, to make way for the young and talented Garner.
Whatever the actual reason, by his early teens Blakey had made the permanent move to drums and was following a path of music, seeing it as a better future for himself, by way out of an inevitable lifetime of work in Pittsburgh's industries. Blakey applied himself to studying the work of the era's most successful big band drummers, such as Sid Catlett and Kaiser Marshall. He would valet for Chick Webb who proved to be an influential early mentor, and likely an important inspiration for Blakey's similarly aggressive swing style.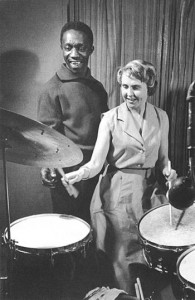 Sometime between 1939 and 1941, Blakey made his first break from Pittsburgh, travelling to New York with singer Dorothy Matthews, oddly, reinstated as a pianist, then returned home to form a band with Mary Lou Williams, again returning to NYC for an engagement at Kelly's Stables. There he continued to work on his otherwise still poor drumming, enough to get noticed by Fletcher Henderson.
As a young man, Blakey energetically lived by the 'rules of the road', which involved drinking and playing hard, frequent reprimand by his band leaders, and sometimes ending up in scrapes with the authorities. An incident early on in Albany, Georgia, resulted in arrest, a cruel police beating, and subsequent hospitalisation for cranial surgery to insert a steel plate.
Blakey toured widely with the Fletcher Henderson Orchestra until 1943 when he formed a couple of small line ups, one after the other, before getting a major break during a stint at Ken Club, Boston, in mid-1944 and, "what Blakey calls the greatest musical experience of his life, three years with Eckstine's big band". However, some musicians thought Blakey's drumming still ropey, so legend has it that after the first session for Billy Eckstine, fellow band member Dizzy Gillespie took Blakey for a crash course in time keeping. Evidently it worked, and the drummer who emerged was unrecognisable.
When singer Billy Eckstine had departed Earl Hines' group to form his own in 1943, Sarah Vaughan, Dizzy Gillespie and Charlie Parker had left with him. The result was a group that would act as a powerhouse incubator for top bebop talent, including in the lineup at various times, Fats Navarro, Miles Davis and Dexter Gordon, and using arrangements written by Tadd Dameron, Gil Fuller and Jerry Valentine.
Blakey stayed for about three years, until Eckstine disbanded the group in 1947, then formed a rehearsal band he named The Seventeen Messengers, with Sonny Rollins, Bud Powell, Kenny Drew and Cecil Payne, using Dizzy Gillespie's songbook, arranged by Thelonious Monk. While they did play gigs at Smalls' Paradise in NYC, sadly they were never recorded, and they disbanded because of the cost of keeping such a large outfit together. Blakey definitely couldn't sub the others; he already had a wife and four children to support.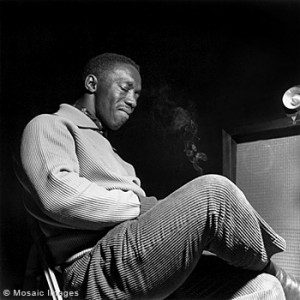 During 1947, Blakey also clinched several sessions with Thelonious Monk for Blue Note, notably recording early versions of 'Round About Midnight' ('Round Midnight), 'Well, You Needn't' and 'Ruby, My Dear', sides that would end up on Genius of Modern Music: Volume 1. Other employment came from sessions for Ida James, Fats Navarro and Dexter Gordon, plus an All Star Concert at Lincoln Square Ballroom, NYC with Miles Davis, who recalled,
"There was a concert that a lot of cats played in at Lincoln Square, which was a ballroom that was located where Lincoln Center is now. Man, that was a great concert of All Stars. Art Blakey, Kenny Clarke, Max Roach, Ben Webster, Dexter Gordon, Sonny Stitt, Charlie Parker, Red Rodney, Fats Navarro, Freddie Webster, and myself. I think it cost something like $1.50 to get in and hear all those great musicians. Some people danced and some just listened.
I remember that concert because it was one of the last times Freddie Webster played in New York. When Freddie died, in 1947, it made me sick. Everybody else, too, especially Diz and Bird. Webs— that's what we called him—died in Chicago of an overdose of heroin that was meant for Sonny Stitt. Sonny had been beating everybody out of their money to support his habit. So he did it in Chicago when he and Freddie were playing there. Whoever he beat arranged to give him some bad shit, probably battery acid or strychnine. I don't know what it was. Anyway, Sonny gave it to Freddie, who shot it and died. I was sick over that for a long time. We were almost brothers, me and Freddie. I think about him, even today."
This period is pivotal in any account of Art Blakey's life. Perhaps the two greatest non-musical influences came to the fore, for him during this period: heroin and Islam.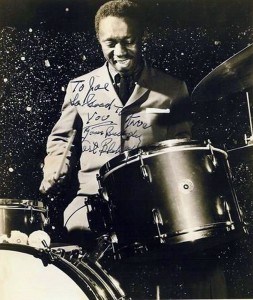 Concurrent with leading The Seventeen Messengers, and like most of that lineup and indeed many black jazz musicians at the time, Blakey became interested in the Muslim heritage lost when slave ancestors had been removed from West Africa. Adjunct Professor of Religious Studies at Hofstra University, Hussein Rashid, explains that,
"The Muslim presence in America dates back to the 1600s and the forced transfer of Africans as slaves. Approximately a third of all slaves brought to the what would become the United States were Muslim, and they brought not only their regional cultures with them, but their religion as well. Current research suggests that the expression of West African music, influenced by the Arabic basis of Islamic liturgy, has a deep and abiding impact on American musical culture […] In the mid-20th century, Islam was identified as much with a Black political identity as it was a religion. It was consciously part of the African-American experience once more, and had a deep impact on the jazz world."
Like many others Blakey adopted a Muslim name, Abdullah Ibn Buhaina, possibly after a pilgrimage to West Africa, and returned to join the Ahmadiyya Muslim Community.
Plenty of anecdotes surround Blakey's association with heroin. Other than the inconvenience and immediate cost of getting busted for possession, more of a problem for the gigging jazzman was the consequential damage to reputation and confiscation of their Cabaret License, literally, the 'meal ticket'. However, despite his reputation for long-term drug use, Blakey seems to have avoided that particularly costly ignominy.
Whether it is through being wary or wily, it's not clear: Miles Davis claimed in his autobiography that Blakey's refusal to co-operate with a policeman at Burbank airport had escalated a peaceful arrest that was likely to only result in confiscation of their narcotics, into a booking and overnight detainment. Davis also claimed that Blakey sought leniency by attempting to grass him up, but that was contradicted by saxophonist Hadley Caliman who interpreted what he saw as Blakey taking the rap for a far more dishevelled Davis.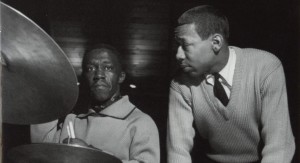 Blakey was by no means blameless in such matters. He certainly exposed his bandmates to drugs – Lee Morgan said it was Blakey who got him addicted to heroin – but, he was also known to help out when drugs led to trouble. For example, Art Taylor's drum kit was taken as collateral against a debt he held with some dealers, so Blakey visited with Taylor in tow, to bravely point out that removing a musician's means for earning money made repayment less likely. The drum kit soon reappeared.
Despite the 1949 airport arrest, the next few years would see Blakey playing with Miles Davis and Charlie Parker, making the famous recording with Thelonious Monk of the Bb-blues "Straight, No Chaser" which Blakey sets up superbly with a crashing snare introduction and a barrage of rimshots. His playing had now reached a zenith from which it barely wavered. He had found his own style, and saw no need to pose any risky challenges to the success he was experiencing.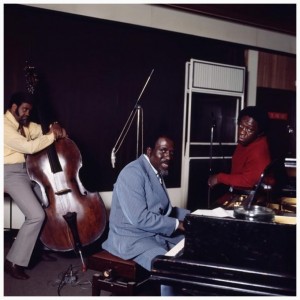 The demand for his playing speaks for itself: his name studs the cast of almost every top level outfit making the most popular recordings, touring the US and Europe, and headlining the main venues: in the following five years alone, up until the reintroduction of The Jazz Messengers proper, as the more familiar quintet set up, Blakey would occupy the drummer's stool for the, Sonny Stitt Quartet, Dick Hyman Quintet, Miles Davis Sextet and Birdland All Stars, Gene Ammons – Sonny Stitt Septet, Charlie Parker Quintet, Dizzy Gillespie Sextet, Illinois Jacquet Quintet, Thelonious Monk Quintet and Trio, Zoot Sims Quartet, Bennie Green Septet, Sonny Rollins Quartet, Buddy DeFranco Quartet, Horace Silver Trio, Lou Donaldson Quintet, Morris Lane Quartet, Paul Bley Trio, Bud Powell Trio, as well as playing in backing bands for singers, Dinah Washington and Annie Ross.
Towards the end of this period, Blakey and Horace Silver co-led a whittled down version of a nonet that had been intermittently performing as a dance band. The emerging quintet had, Blakey, Horace Silver, Kenny Dorham, who had written most of the material for The Seventeen Messengers, Lou Donaldson, and Gene Ramey. This lineup could be considered as being the very first Jazz Messengers. Two very rare disks hold a total of five tracks from their historic appearance at Birdland on 31st October, 1953: Hooray For Milt Jackson ("An Oscar For Oscar", "If I Love Again") and Kenny Dorham 1953, 1956, 1964 ("Split Kick", "Get Happy", and "Lullaby Of Birdland").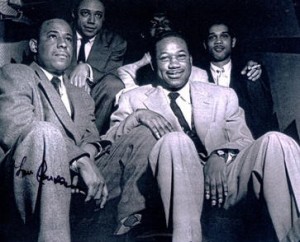 When Dorham dropped out to debut as a leader of his own quintet at the end of 1953, Blakey was left looking for a replacement trumpeter for an upcoming engagement. Turning to friends for help, he recalled,
"I told Bird I'm going to Philadelphia, and I've got to have a trumpet player. He said 'I got a trumpet player for you, you go to the gig and he'll be there. He lives down in Wilmington.' I trusted Bird. I went to Philly and there was Clifford in the dressing room. I'd never seen him before or heard anything about him in my life. He sure surprised the hell out of me."
Clifford Brown was known to Blakey more than this story suggests; Blakey had played a day's recording of the Clifford Brown Sextet in late August 1953, but Clifford Brown as a Jazz Messenger wouldn't be captured until they appeared at Birdland in February 1954, albeit billed as the Art Blakey Quintet, but comprising, Blakey, Horace Silver, Clifford Brown, Lou Donaldson and Curly Russell. They can be heard on the doubled-volume A Night at Birdland, and the unearthed Live Messengers which made available another side of unissued recordings from that set, packaged together with recordings made in 1961 and 1962.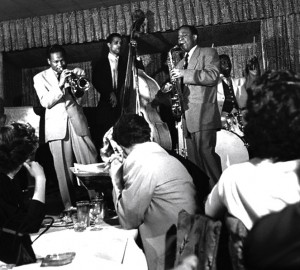 The original liner notes to Night at Birdland quoted the comparatively veteran 34-year old Blakey, "I'm going to stay with the youngsters. When these get too old, I'm going to get some younger ones. It keeps the mind active", and indeed, everyone is firing on all cylinders that night: Blakey can't refrain from a self-congratulatory "Wow!" now and then, but it is Brownie's presence here that is to be cherished, and sometimes his soloing carries you along like he's the only musician there! His playing on "A Night in Tunisia" is nothing short of stratospheric, getting a well-deserved shout-out.
Horace Silver responds with a breathtaking boogie-woogie bounced across the middle of "Mayreh" while Blakey's precision bombardment, imaginative percussion, and trademark clack-clack-cross-sticking, accentuate and nuance throughout. Lou Donaldson and Curly Russell have many highpoints too, a brilliant sax solo on "The Way You Look Tonight", or some frenetic bass work underpinning a gasp-raising Brownie solo on "Wee-Dot". Indeed there's not a weak moment in the whole evening and it's such a pleasure to put ourselves right in the room. The breakneck "Lou's Blues" rounds off the second disk, a blistering piano solo, cymbals crashing, and a succinct conclusion played in perfect unison.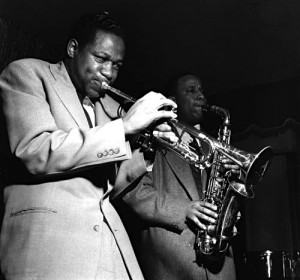 Impressed by the success of including the brilliant Clifford Brown in his quintet, Blakey kept this lineup until the young trumpeter slipped through his grasp to join with Max Roach and become a major recording star at Mercury Record's jazz subsidiary EmArcy.
Blakey's next gig pitched him with trumpeter Joe Gordon, who was similar in his straight ahead playing to Kenny Dorham, and would die tragically young, like Clifford Brown. The other members of the band were Gigi Gryce, Freddie Redd, Bernie Griggs and percussionist Sabu Martinez. Interestingly, pianist Freddie Redd considers this where it all began,
"This was the first Messengers […] it was really something, because Sabu's a great player. What with Art and Sabu, that was a lot of drums! It was a great experience working with Art because he always maintained a certain level – he never stopped swinging".
However, jazz historian Ira Gitler has yet another view,
"Late in 1954 a quartet under the leadership of Horace Silver was playing at Minton's Playhouse. As a result of earlier successes on the Blue Note label, Horace's star was in the ascendancy and Alfred Lion was anxious to record more of his brilliant hard driving piano. It was decided that this date would present Horace as a combo leader for the first time. He responded by getting Kenny Dorham and Art Blakey to join himself and two of the members of his Minton's quartet, Hank Mobley and Doug Watkins. Thus the Messengers were born, or reborn."
The returning Kenny Dorham completed the lineup of, Blakey, Horace Silver, Kenny Dorham, Hank Mobley and Doug Watkins, which would undoubtedly become the first to step into the studio and make a recording as the Jazz Messengers, a name coined by Horace Silver, so fittingly that album became Horace Silver And The Jazz Messengers.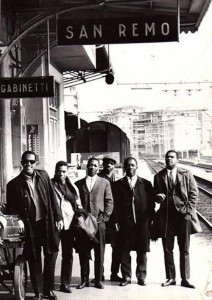 They were recorded live for The Jazz Messengers at the Cafe Bohemia and continued to regroup for sessions until mid-1956, when Donald Byrd replaced Kenny Dorham, for The Jazz Messengers album. When Horace Silver left with Hank Mobley and Doug Watkins to form a quintet with Joe Gordon and Kenny Clarke, Blakey took over sole lead for the rest of his life, and regardless of lineup, the band was referred to from then on as, Art Blakey and the Jazz Messengers.
Of note during the remaining decades of great jazz is the 1964 album Free For All, on which the lineup of the Art Blakey and the Jazz Messengers with, Cedar Walton, Wayne Shorter, Freddie Hubbard, Curtis Fuller and Reggie Workman is arguable the one that pushed the limits of hard bop the furthest. Here they are heading into their third year together, and with such innovators working together, within a cultural and political landscape in turmoil: anti-segregation protests were rife, John F. Kennedy's assassination only three months previous was accelerating the passage of The Civil Rights Act through Congress, US troops were skirmishing in Panama, and the Beatles were invading America, taking their first US singles number one spot, and appearing on the Ed Sullivan Show for their first live performance on US television. If all these external forces did exert themselves on this session, then the saying, "Pressure makes diamonds", has never been truer.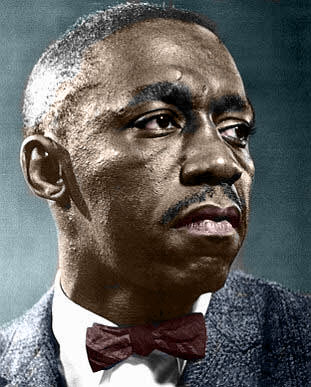 Blakey is the powerhouse as ever. On  Wayne Shorter's title track, he circles and harries his soloists, pushing them further, nudging them with rolling snare fills that tumble three, four times, and end in a thunderous crash that carries the others forward on a shockwave. It is testament to their combined genius that the music holds together so tightly, given the tumultuous complexity propelling them. Indeed, Blakey's extraordinary polyrhythms can be heard no where better than here, on the title track, and on Freddie Hubbard's piece for the times, "The Core" (acronymous for Congress of Racial Equality).
On each of those enormous number of recordings, Blakey's playing style can certainly be described as being "explosive", centred in a powerfully driving and rocksteady meter, usually with heavy accentuation on the second and fourth beats. His circular playing on the ride cymbal, coupled with a sharp, crisp hi-hat, drives the rhythm forwards, and was particularly effective in propelling his soloists, akin to Elvin Jones. But, where Jones would venture further afield, Blakey preferred the comfort of the familiar, all the better to dazzle, with his mastery of the Hard-Bop idiom.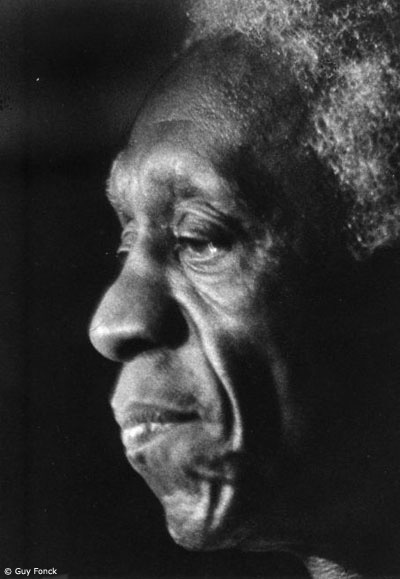 A heavy smoker all his life, Blakey succumbed to lung cancer in a Manhattan hospital. He had lived a life devoted to music, married four times, once bigamously, fathered ten children and, having successfully escaped the constrains of Pittsburgh, he died in New York in 1990, aged 71.
Blakey's masterful contribution to music was recognised with a succession of awards relatively late in his career: Down Beat Jazz Hall of Fame Reader's Choice Award in 1981; inducted into the Big Band and Jazz Hall of Fame in 1982, Grammy Award Best Jazz Instrumental Performance, Group of 1984 for the album New York Scene; and an Honorary Doctorate of Music at Berklee College of Music in 1987. He was posthumously awarded the Martin Luther King Humanitarian Award in 1991, a Grammy Hall of Fame Induction for the album Moanin' in 2001, and a Grammy Lifetime Achievement Award in 2005.
Videos
Art Blakey's Jazz Messengers 1963
Art Blakey's Jazz Messengers 1976
Art Blakey's Jazz Messengers 1985