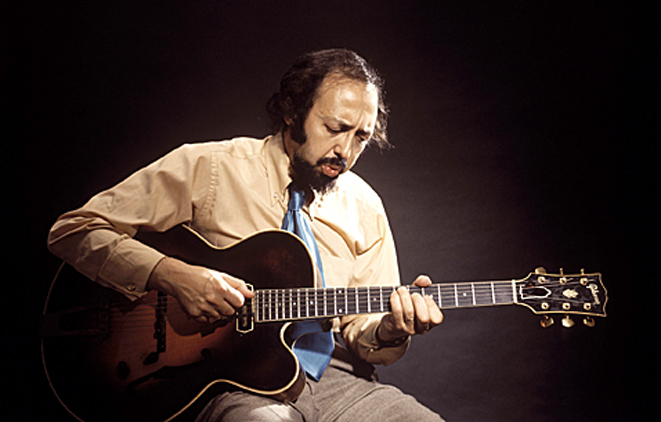 Born in Muskogee, Oklahoma in 1923 Barney Kessel's only formal guitar tuition was for 3 short months during his thirteenth year, which is pretty amazing considering his technical prowess and subsequent musical career.
"One of the most extraordinarily consistent and emotionally huge improvisers of our era" – Nat Hentoff.
Kessel's modest beginnings in local and college bands matured on moving to Los Angeles in 1942 where he joined Chico Marx's group, then Artie Shaw and the Gramercy Five. In 1944 he famously appeared in the short Jammin' The Blues alongside Lester Young, Red Callender, Harry Edison, Marlowe Morris, Sid Catlett, Jo Jones, John Simmons, Illinois Jacquet, Marie Bryant, Archie Savage and Garland Finney. Asked if the reason he was seated in the shadows was because all the other musicians were black, Kessel recounted,
"Well, that's absolutely true. They wouldn't be able to sell it below the Mason-Dixon line. Jack Warner didn't really want to go through with the project when he saw that everyone was black but me. He spoke to Norman Granz about it and asked why he didn't just get a black guitarist. He felt it would be much easier to do it that way. Norman said no, because the people that were here are not here because they are black or white. they're here because they are the people he (Norman) wanted. They kicked it around for a while, trying to find a solution and finally the solution was that I was in the shadows. It kind of inferred, pictorially, that I might be black.
When they did a closeup of me they did stain my hands with berry juice. Now that seem farfetched, but this was in 1944 before the civil rights movement and at that time it didn't seems too far out. It was a time, whether you liked it or not, it seemed like that was the thing to do. That was the way it was.
I saw one of the stills and it showed Lester Young and myself sitting there on the soundstage. Now, Lester was a very light complexioned black and he is sitting there with the lights on him and I'm sitting next to him, kind of in the shadows. When I saw this picture and I said to them laughingly, 'What's he doing sitting there with us?' He looked much lighter than I did."
Stints followed with Charlie Parker (1947), Benny Goodman (1948) and the Oscar Peterson trio (1952) with Ray Brown, before touring 14 countries with Jazz at the Philharmonic during 1952-53.
The next two decades were predominated by freelance session and studio work, including as an arranger for TV and film scores (for example, he played 'Mr. Spock's Theme' on bass when it first appeared in the Star Trek episode Amok Time – Season 2, Episode 1, 1967, and development of teaching materials: an instruction book and several videos. Kessel enjoyed a triumphant return to performance in 1973 upon forming the Great Guitars trio with Charlie Byrd and Herb Ellis. He continued to perform in clubs and at festivals upon moving to San Diego in the late 80s, but was forced to retire when he suffered a major (cerebrovascular) stroke in 1992. He died of a brain tumour in 2004, aged 80.
Videos
Barney Kessel 1962 - Jazz Scene USA
Barney Kessel with Oscar Peterson 1974
Kessel / Byrd / Ellis 1979 - Maintainence