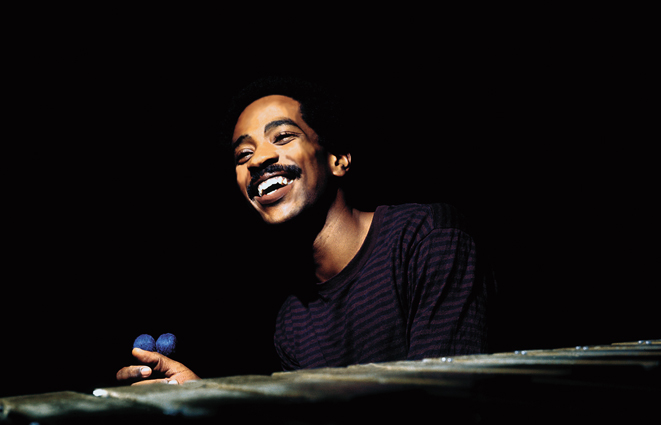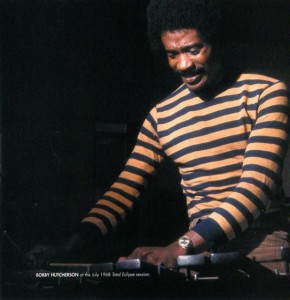 Along with the legendary Gary Burton, Bobby Hutcherson's helped to establish a direct lineage from Lionel Hampton, who first popularised the vibraphone while playing swing, and Milt Jackson's revolutionary groundwork in bop, and propelled it into the modern arena. Hutcherson in particular brought a unique sense of harmony and group dynamics, characteristics which were especially tested during his early career which coincided with moves into the more dissonant avant-garde. While this explains why he may not be such a household name as Burton, it does mean that Hutcherson spearheaded the exploratory realms of his instrument more so than any other, often employing a four-mallet technique to stretch its possibilities, before he also moved into the modal post-bebop mainstream in latter years.
Hutcherson was born in Los Angeles on January 27, 1941 and raised in Pasadena, eschewing the formal piano tuition given by his aunt, preferring to discover music on his own terms. With jazz influences nearby – his brother was a friend of Dexter Gordon, and his sister dated Eric Dolphy – hearing a Milt Jackson record in his teens inspired Hutcherson to save up to buy a vibraphone and take lessons. A high school dance band led to engagements with Curtis Amy and Charles Lloyd, and then onto his first co-leadership with Al Grey and Billy Mitchell in 1960.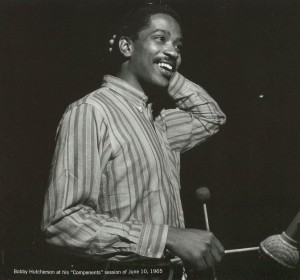 The following year, Hutcherson chose to stay in New York following the group's run at Birdland. This was decisive for his career as he was soon sitting in with outfits featuring, Grant Green, Herbie Hancock and Hank Mobley, and experimental players such as Eric Dolphy, Andrew Hill, Jackie McLean, Grachan Moncur III, and Archie Shepp. Word spread and Hutcherson was quickly snapped up as a session musician for Blue Note, and stayed with them for fourteen years straight. Horace Silver is the only person signed to the label for longer.
Two albums that demand attention from that period are Jackie McLean's One Step Beyond (1963) and, in particular, Eric Dolphy's seminal Out To Lunch! (1964) which helped to bring Hutcherson to a larger audience and his first Downbeat poll win, for Most Deserving of Wider Recognition. Justly deserved too: while each instrumentalist is vital to Dolphy's cohesive vision, it's the arrangements combining and contrasting the horn section with vibraphone, and Hutcherson's dauntless atonality that place the music in a new soundspace. His soloing is as revolutionary and innovative as Dolphy's, incessantly pushing the instrument to new levels. The title track itself features a wonderful, gossipy conversation between Richard Davis' bass and the vibraphone, full of inflection, interruption, and incredulity.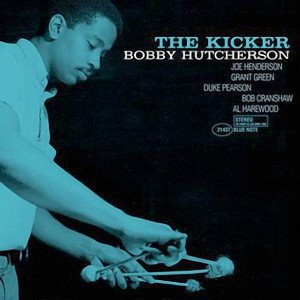 The first lead for Hutcherson on Blue Note had occurred beforehand, in 1963, and had matched the young vibraphonist with the exciting tenor sax of Joe Henderson, also newly signed to the label, and newly assigned Blue Note A&R man, pianist Duke Pearson. Bassist Bob Cranshaw and Al Harewood on drums provided rhythm, with guitar-great Grant Green contributing to half of the six tracks. For some reason this album, The Kicker, didn't appear until 1999, despite the exact same lineup that would appear on Green's well-received Idle Moments from 1964.
Rather, what's likely is that The Kicker session was good, but too bop and blues-oriented for the new direction Blue Note found themselves taking at the time, a suggestion supported by the successful release of Hutcherson's next recording as leader, two years later. The intervening time had allowed him to absorb the conceptual and technical innovations arising out of his session work, on the likes of Andrew Hill's Point of Departure (1964).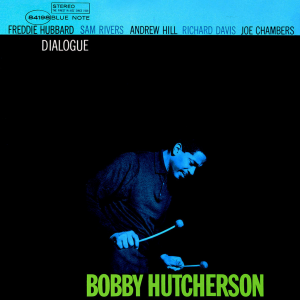 So it was 1965's Dialogue that actually became Hutcherson's debut. It's an adventurous outing with a stella lineup of Hutcherson, Sam Rivers, Freddie Hubbard, Andrew Hill, Richard Davis and Joe Chambers, that creates an intriguing transitional form between hard bop and the avant-garde. Hill's 'Catta' opens the album with some wild off-piste playing by Rivers, Hubbard and Hutchinson, anchored by a pulsating, hypnotic salsa, which just about holds on against the tug of Hutchinson's slipstream. The gentle, lolling 'Idle While' gives way to 'Les Noirs Marchant', undoubtedly a political piece (equally, 'The Blacks [are] Marching', or, according to the liner notes, "The Blacks' March"), and a fascinating exercise in avant-gardism, attempting to oscillate between a rigid military rhythm spelt out on the snare, replete with bugle calls, and free-form floating, which eventually drifts back to the parade ground where it began. Chamber's title track is also "out-there", and includes some lovely glissandos by Hutcherson, and introspective bass noodling breaking out into intensive flurries from Davis, Hutcherson's bandmate on Out to Lunch! and Point of Departure.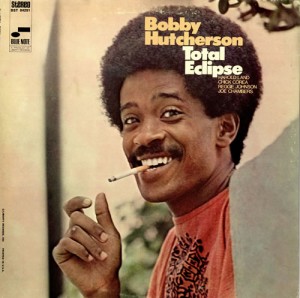 Another album under Hutcherson's name of particular note is Total Eclipse from 1968, a year in which there were in fact two total lunar eclipses, in April and October, plus a total solar eclipse in September. So topical it was, and also reflective of the pivotal movements being made in jazz. At a point that was very much at the fork in the road for post-bop, the arrangement remained acoustic, but the vibe on the album is "electric". There's is a progressive feel, pushing modal and beyond, an investigation of new forms; the suggestion is exploration, looking for answers. Bop structure is stretched out of recognition. Reggie Johnson's walking bass tip-toes, skips and leaps between Hutcherson's echoey vibraphone and Chick Corea's nimble chord play. Hutcherson's and Harold Land's playing on the balladic title track has the lightest touch, given acres of space by Johnson's patient phrasing, allowing ideas to expand, like ripples in a pond. The tempo is racked up for Corea's highly charged 'Matrix', his left-field solo is a class act, while the closing 'Pompeian' is both new and old, for which Land swaps his sax for flute and chiming bells evoke antiquity, as the ensemble slide in-and-out of freer forms.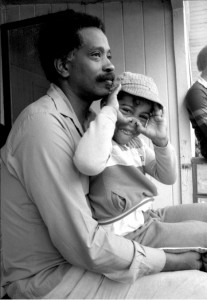 Perhaps Hutcherson's reluctance to fully embrace the move towards the fusion of jazz with rock, folk and world musics sidelined him for the first half of the 70s. A comparatively sedate quintet setting co-led with Land was short-lived, but did produce some excellent recordings such as Now! and Medina, both in 1969, the more fusion-oriented San Francisco (1970) and laid-back Cirrus (1974), while Hutcherson's flirtation with neo-classicism produced Head On in 1971.
However, it wouldn't be until 1975, until the funky, Latin-infused Montara became one of Hutcherson's most commercial successes. It was a decade late for the original boom in Latin Jazz, but it did capitalise on the return to popularity of Latin dance music; the "Latin Hustle" (soon to be "New York Hustle", and then simply "Hustle" following Saturday Night Fever in 1977) was a craze in discos, and mainstream Latin bands, such as Santana, were still charting. Bringing us up-to-date, Montara has enjoyed another resurgence recently with DJ Madlib sampling from it for his album Shades of Blue (2003).
Able to adapt to changes in jazz through the decades, Hutcherson has continued to be in demand as both guest and primary artist, whether in gentle contemplative duet with McCoy Tyner on Manhattan Moods (1993) or the searing modern jazz heat of Hammond B-3 organist Joey DeFrancesco's Organic Vibes (2006), Hutcherson still plays in his inimitable style, having honed his sound over one of the longest careers in jazz. He may be generally choosing more subtle palettes than before, but he is as inventive as ever.
While air travel for touring may be limited because of his emphysema, recording is still very possible and, recently, a new landmark in the modern music was established with his triumphal return to Blue Note in 2014. As part of the 75th anniversary celebrations, the album, Enjoy the View, is a quartet setting with, saxophonist David Sanborn, Joey DeFrancesco, and drummer Billy Hart. "I'm thrilled to be back here," he says. The feeling is mutual, "Bobby not only has an incredible history with Blue Note as the preeminent voice of the vibes, but he still remains the giant of the instrument … For Bobby, it's more than coming full circle. It's also about guiding the course for the future."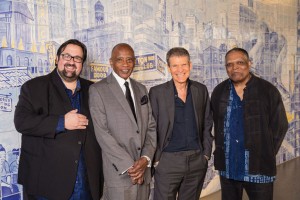 Of course, the reception for Hutcherson's return has been nothing short of adulatory, commending his, "clean tone and subtle voicings [as] unmistakable, and his three original songs – the funky 'Hey Harold', the dreamy 'Montara' and the sleekly swinging 'Teddy' – show why he made an impact in his prime as a composer as well as an improviser", as if he had never been away, "he still sounds like the guy that was reimagining sounds in the 1970s … the artist reclaims his signature sound, whilst having it make absolute sense in the present … let's hope we don't have to wait another 37 years to hear it on Blue Note. Welcome back, Bobby Hutcherson."
Videos
Bobby Hutcherson Quintet 1969 - Antibes
Bobby Hutcherson Trio 1985 - Bouquet
Bobby Hutcherson Quartet 2007