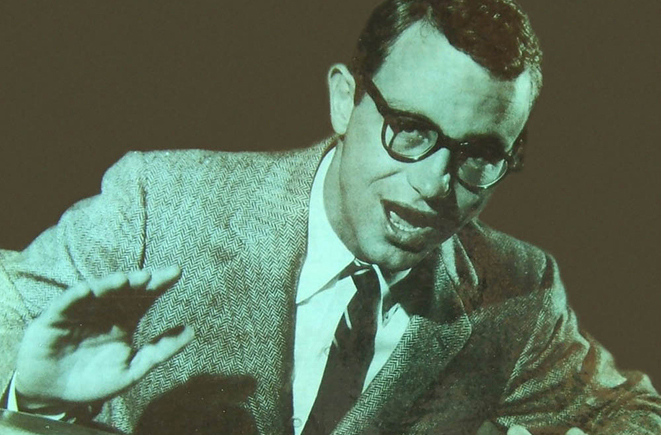 Cal Tjader is one of the giants of Latin jazz who could play drums, piano, timbales, bongos, and congas, but it's as a vibes player that he's best known. He's one of a select band of jazz musicians who managed to get records onto the pop charts and in so doing introduced many people to jazz.
Born in St. Louis Missouri in 1925 Callen Tjader Jr. had a a piano-playing mother and vaudeville-performing father, and as a child Cal danced professionally, before learning the drums as a teenager. After serving in the army until 1946 he went to college where he intended to become a teacher, albeit taking music lessons as well. He then hooked up with fellow Bay Area resident Dave Brubeck, who introduced Tjader to Paul Desmond and the three recruited others to become the Dave Brubeck Octet with Cal as the drummer. Soon becoming a trio, Tjader taught himself to play vibes but after Brubeck had a bad car accident in 1951 the trio disbanded.
"Although he was a drummer and percussionist by background, he seemed to draw on the instincts of a horn player in shaping his improvised lines. They did breathe." Ted Gioia in West Coast Jazz: Modern Jazz in California, 1945-1960.
Tjader worked with bandleader Alvino Rey, before joining George Shearing's famous quintet in 1953 on percussion and vibraphone. Shearing's bassist Al McKibbon introduced Tjader to Latin music, and his passion for it was intensified through contact with Willie Bobo, Mongo Santamaria, and Armando Peraza.
Leaving to form his own band the following year, Tjader climbed aboard the '50s mambo craze, emphasizing their Latin element, but also playing mainstream jazz. Bobo and Santamaria joined Tjader's band, and Vince Guaraldi served for a while as pianist and contributor to the band's repertoire.
Tjader recorded a set of fine Latin jazz albums from the mid-1950s, mostly for the Fantasy label, before being signed by Verve in 1961. Creed Taylor encouraged him to seek other influences, to investigate other musics, and set up collaborations with artists such as Lalo Schifrin, Anita O'Day, Kenny Burrell, and Donald Byrd. Among the dozen albums Tjader recorded for Verve were, Several Shades of Jade in 1963, and Soul Sauce in 1965, they proved to be very popular and both made the Billboard best sellers list.
Videos
Cal Tjader and Milt Jackson - Club Night
Cal Tjader 1974 - Guachi Guara
Cal Tjader and Dizzy Gillespie 1982