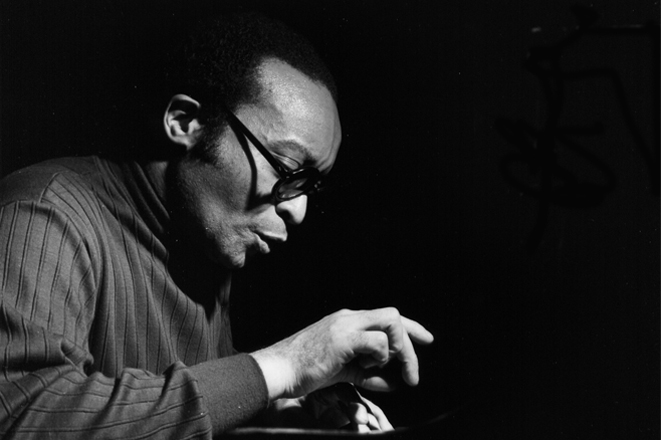 Cecil Taylor is simply one of the most significant pioneers and extreme exponents of the Free Jazz movement.
"Soon after he first emerged in the mid-'50s, pianist Cecil Taylor was the most advanced improviser in jazz; five decades later he is still the most radical. Although in his early days he used some standards as vehicles for improvisation, since the early '60s Taylor has stuck exclusively to originals. To simplify describing his style, one could say that Taylor's intense atonal percussive approach involves playing the piano as if it were a set of drums. He generally emphasizes dense clusters of sound played with remarkable technique and endurance, often during marathon performances." – Scott Yanow
Taylor was born in 1929 to a violin- and piano-playing mother, followed in her footsteps from aged 5 years, and eventually formally studied at the New York College of Music and New England Conservatory. He cites Thelonious Monk, Duke Ellington and Horace Silver as his favourite pianists.
Between 1952 and 1956 Taylor gigged with Hot Lips Page, Lawrence Brown and Johnny Hodges. He played in a quartet during 1956-57 with Steve Lacy, Buell Neidlinger and Dennis Charles, with whom he recorded the seminal Jazz Advance, received as nothing short of a revolution, "Taylor was setting the pace, and the improvised music world has never been the same", and frequently listed "as one of the 20 Essential Free Jazz Albums". An appearance at the 1957 Newport Jazz Festival and a six week engagement at the famous Five Spot, where he also led a quartet with Archie Shepp, further cemented his reputation.
The broad palette of Taylor's creativity began to be expressed when he acted in Jack Gelber's play The Connection in 1961, a play-within-a-play that explores the links between jazz and addiction. Taylor's other interests include ballet and dance (his mother was also a dancer), and poetry which he has sometimes performed and integrated into his album liner notes.
During the 60s Taylor's groups variously featured, Albert Ayler, Jimmy Lyons, Sunny Murray, Rosewell Rudd, Andrew Cyrille and Archie Shepp who later commented, "Playing with Taylor I began to be liberated from thinking about chords. I'd been imitating John Coltrane unsuccessfully and because of that I was really chord conscious".
Elements of this assembly collected to form the Jazz Composer's Guild in 1964-65, which became manifest as the Jazz Composer's Orchestra (of America, JCOA) with the notable addition of the Michael Mantler-Carla Bley writing partnership, and their formative first recording Communication from 1965.
Another product from this period was Taylor's long-term ensemble he called his Unit. Stemming out of a trio with Lyons and Murray that had been captured live in 1962, it expanded into a septet with Eddie Gale Stevens, Ken McIntyre, Henry Grimes, Alan Silva, and Andrew Cyrille replacing Murray, for the violently aggressive Unit Structures (1966).
Despite critical acclaim (he was awarded a Guggenheim Fellowship in 1973 and performed at the White House for Jimmy Carter in 1979), Taylor's uncompromising attitude to his challenging musical style has resulted in periods of unemployment and few recording dates. He has also been forced out of teaching positions for his stringency: failing two-thirds of a class for lack of seriousness.
A legendary encounter between Taylor and Mary Lou Williams, who had come to respect each other's playing over the years, billed as a dual-piano concert, was in reality a train crash as egos inflated beforehand and a clash of their styles erupted onstage as the headstrong Taylor seemed unaware of his playing partner, "The result was at best a tug of war in which Mr. Taylor managed to remain dominant," wrote the New York Times. On 'Back to the Blues', to take one example, Taylor plunges deep into his favorite nether musical regions. It takes Mary's strongest playing, the signature crash and crush of her left hand at full throttle, to tug the piece back from outer space. When, as Gary Giddins described Taylor, "the predatory avant gardist" overreached Mary's "spare, bluesy ministrations," she called in the rhythm section quite as if she were calling in the troops.
Nica de Koenigswarter consoled Williams, Rather than an 'embrace,' it seemed to one like a confrontation between heaven and hell, with you (heaven) emerging gloriously triumphant!!! I know it wasn't meant to be that way, but this is the way it seemed. I also know what a sweet cat C.T. is and what beautiful things he writes, in words, that is, but the funny part is that he looks just like the Devil when he plays as well as sounding like it, as far as I am concerned, sheets of nothingness, apparently seductive to some. Anyway I loved Mickey Roker and Bob Cranshaw for seeming like guardian angels, coming to your defense and it was worth it all to hear you bring it back to music. Love you, Nica.
Williams had had a game plan, that, "When Cecil is doing his things, I'll start moving in his direction. I'll play free and then I'll jump back to swinging", but she had also expected some previously agreed structure and even for Taylor to play a part that she had written for him. Perhaps she should not have been surprised by the outcome, from one of the freest musicians who penned the maxim, "rejection of the 'classic order'".
Videos
Cecil Taylor 1968 - Paris
Cecil Taylor 1970 - Jazz harmonie