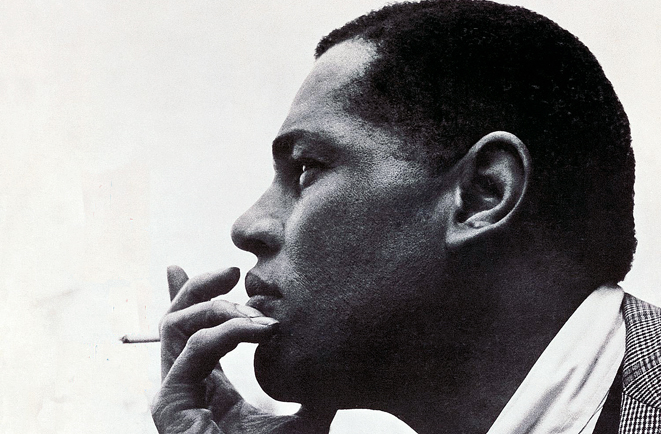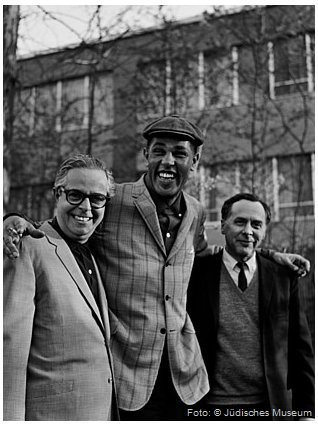 Almost literally a giant of jazz at 6 feet 6 inches (198 cm), Dexter Gordon, a.k.a. "Long Tall Dexter", "The Sound" and "Sophisticated Giant", stands out as one of the most cherished post-war musicians, loved for his stage presence and personal magnetism, and his warm, wide sound. Throughout his 40-year career, Gordon played upbeat plenty of times, but he also had one of the richest, smoothest tones on the tenor saxophone and he is best remembered for his famous rhythmical laid back phrasing, creating space in the music by pitching just behind the beat, forcing his rhythm section to drive the pace.
Born in Los Angeles in 1923, Gordon's father, Dr Frank Gordon, M.D., was one of the earliest renowned African-American medical practitioners, boasting Duke Ellington and Lionel Hampton amongst his clientele. Gordon took up clarinet when he was 13, before switching to alto saxophone at 15. Tenor saxophone soon became his passion from 17 and, like most other players, Lester Young became his hero. He would take Young's succinctness and clarity, and apply it to bebop, where necessary, adding in the required muscular complexity, trademark musical quotations, and humorous asides. His favoured instrument was a Conn 10M Lady Face until 1964 when he lost it in a Paris hotel, so switched to a Selmer Mark VI.
Lessons with Lloyd Reese, Les Hite's horn man and long-lasting influence on Charles Mingus, Buddy Collette and Eric Dolphy, gave Gordon a good grounding in music theory and harmony, but also deportment and group playing. Collette recalls,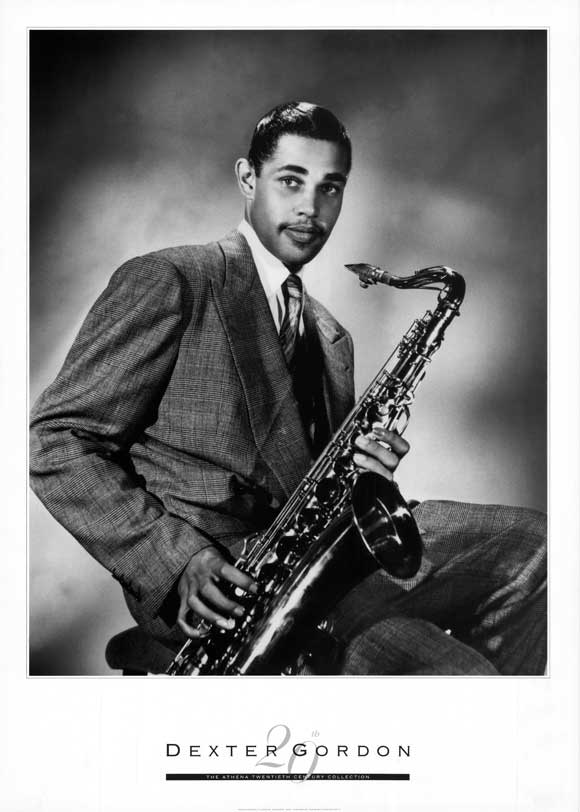 The ones who went to Lloyd Reese all did very well, because they could go anywhere. It wasn't just that they could play the instrument well. They had to be able to meet with people, conduct themselves properly. They knew how to make time. They were concerned about the whole orchestra. It wasn't just "Well, I played mine" but "Yeah, guys, could we all get an A? Could we all tune up again? Could we all maybe play a little easier?" That was a Lloyd Reese-type student. Everybody had to play piano. Most of us could write, most could conduct. You were getting all that other knowledge. He was opening our minds. He also had a workshop or rehearsal band once a week. All of his students were in it. It was not so much how much you played, it was how you played it. And we were aware of it. He was into reality and calling it like it is. And when you do that, you can really get it. This guy was preparing you to be a giant.
Beginning his career in school bands with other future-famed jazz musicians, Chico Hamilton and Buddy Collette, Gordon got his big break in 1940: still only 17 and while attending Jefferson High School, he joined the Lionel Hampton Big Band, one of the most popular bands of the period.
Gordon stayed with Hampton for 3 years, playing alongside Illinois Jacquet and Marshall Royal, until cutting his own recordings with Nat Cole and Harry "Sweets" Edison, and then spending a couple of years passing through the bands of Louis Armstrong and Fletcher Henderson.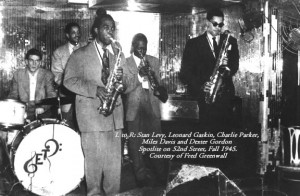 Whenever he returned to Los Angeles, Gordon continued to make a name for himself on the club scene, especially along Central Avenue, jamming with the likes of Sonny Criss, Benny Bailey, Art Farmer, Hampton Hawes, Carl Perkins, Larry Marable and Leroy Vinnegar. But, it wasn't until he joined the Billy Eckstine Orchestra directed by Dizzy Gillespie, that he really made a national name for himself, playing with Charlie Parker, Gene Ammons and Sarah Vaughan, and afterwards in epic live tenor duels with Wardell Gray.
I came to New York at the exactly the right time, when the music changed from swing to bop. I remember that some of the older musicians were rather indignant because we played in a new fashion, used new chords and so on. Fortunately I had studied theory and harmony, I had some knowledge of musical theory, which enabled me to grasp what was going on. I have always had a keen interest in harmony, ifI hadn't been so lazy I might have been a reasonable good arranger.
There are some historic recordings from these half-a-dozen years or so, that really capture the buzz at the time.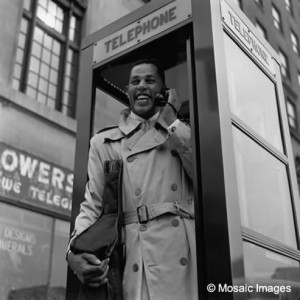 Jail and bans for drug possession hampered Gordon's progress in the 1950s, but he had recuperated by the 1960s and was regaining his audience, featuring in Jack Gelber's play, The Connection, a story about a group of heroin addicts, and recording frequently for Blue Note, producing highly successful albums, such as, Doin' Allright, Dexter Calling, Landslide, Go and A Swingin' Affair, when he surprised everybody and suddenly emigrated to Europe in 1962.
Go was Gordon's personal favourite out of the albums he recorded for Blue Note, because he thought the group was "as close to perfect as you can get", comprising a rhythm section of Sonny Clark on piano, Butch Warren on bass and Billy Higgins on drums. Importantly, it also had given Gordon his first gig after a long year's forced parole for drug offences in his home town of Los Angeles. Ira Gitler remembered that, "Dexter was excited about recording for Blue Note. The label had become a big deal by the late 1950s, and Dexter was back in New York. Which for him was a relief". On the recording, Gordon's style emphasises the lower registers, his huge bassy tone curling up into higher planes, and falling back to long, accentuated root notes. Because of this, his phrasing can sound hurried by Billy Higgins' wide-swinging backbeat through the uptempo tracks, but comes into its sensual, elegant own on slow ballads. The rich, gooey, sticky toffee pudding that is 'I Guess I'll Hang My Tears Out To Dry' is a bittersweet case in point. The ominously titled 'Second Balcony Jump' is a tight mid-tempo number that provides space for the soloists Gordon and Clark to really stretch out and come up with some gorgeous faraway phrasing that reconnects with a snippet of 'Pop Goes the Weasel' at end, an example of the delightful whimsy integral to Gordon's playing.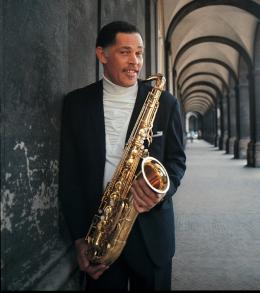 Staying in Europe until 1976, Gordon taught, performed and recorded some of his best music, and only occasionally revisited the US, mostly to record. Clearly not struggling to obtain work, he explained the reason for his move was to do with the Continental pace of life,
Well, for me, it has been very good because my whole lifestyle is much calmer, much more relaxed. I can devote more time to music, and I think it is beginning to show. It's not that everyday scuffle, and I'm able to concentrate more on studying. […] So in the sixties I worked, […] for three or four months, and then in the winter for a couple of months, and in between outside, traveling around. And for myself it was a great learning experience, how to do this and also to become self-dependent […] That experience became very, very important.
An alternative explanation provided by his wife suggested that, Dexter left for Europe because Ronnie Scott had invited him to perform at his club in London, […] When he got there, he was invited to Copenhagen and to Paris, and when he looked up, it was 14 years later. He was not the type to be fed up with anything. He was the eternal optimist.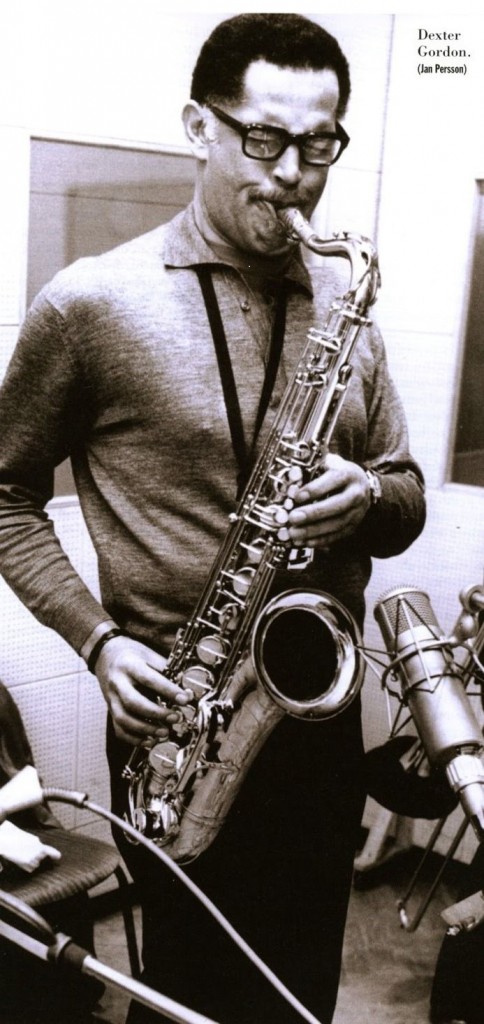 As interesting, and perhaps also surprising, is that, while living in Denmark, he befriended the family of future Metallica drummer Lars Ulrich, and subsequently became Lars' godfather, whereas, in Paris, Gordon  lived in a hotel in the red light district, next door to the French jazz patron Francis Paudras who was taking care of the ailing pianist Bud Powell. Gordon was sharing with saxophonist Johnny Griffin and drummer Art Taylor who recalled that, "Dexter was a sweetheart […] He was the first really modern tenor saxophonist. We had wonderful times. Dexter used to take me out to dinner, and we would eat two or three dozen oysters, go to fine restaurants and just enjoy the food."
Since moving to Paris in 1959, Powell had formed a trio called The Three Bosses, with drummer Kenny Clarke and bass-playing, French national Pierre Michelot. During one of Blue Note founder Frank Wolff's annual vacations in Europe, the opportunity arose to bring The Three Bosses and Gordon together in the studio. The resulting album was the magnificent Our Man in Paris (1963), upon which the steamroller, that is Gordon's huge tone and trademark playing behind the beat, gets a lumbering workout in this powerhouse quartet, and he is at the peak of his game, having mastered his sultry style, but displaying an edgier sound sourced from Sonny Rollins and John Coltrane, who in turn cite Gordon as a primary influence. 'A Night in Tunisia' sounds every bit as classic as a classic track, handled by a classic lineup, should sound. Despite the escalation of Powell's personal difficulties, which had actually forced rejection of the intended book of new material, in favour of the repertoire of familiar standards on these sides, Powell also sounds supreme, his rapid single note jabs chisel out exquisite nooks and crannies on 'Willow Weep for Me' while elsewhere, on 'Like Someone in Love', his hefty chords pulverise the bedrock to dust.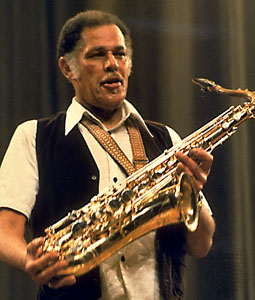 Given Gordon's extended departure and infrequent returns, it was equally surprising therefore that when he did move back to the USA for good, his return was received with near frenzy. Crowds queued around the block to see the living legend playing once again. His popularity and marketability sustained him even when failing health had limited his playing by the early 1980s, but TV and film were available: he had earlier been cast in Unchained Saxophone Player (1955) and I Love, You Love (1968), as well as narrating the short feature Stop for Bud (1963), and made appearances later in Crime Story (1988), Moulin Rouge (1988) and Awakenings (1990), but it was as ex-pat, alcoholic Dale Turner in 'Round Midnight (1986), an amalgam of Young, the Powell-Paudras relationship, and a bit of Gordon himself, that turned in an outstanding performance good enough to win him a nomination for that year's Academy Award for Best Actor in a Leading Role.
Aged 67, Gordon entered Thomas Jefferson University Hospital in Philadelphia, in March 1990 for treatment of cancer of the larynx. He died a month later from kidney failure, and was survived by his wife, six children and five grandchildren. He was DownBeat musician of the year in 1978 and 1980, and also inducted into DownBeat's Jazz Hall of Fame.
Videos
Dexter Gordon 1963 & 1964 - Live
Dexter Gordon 1967 - Denmark
Dexter Gordon 1979 - The Hague