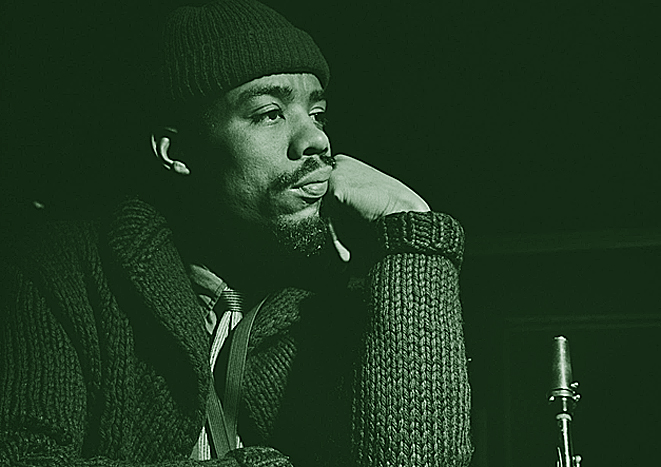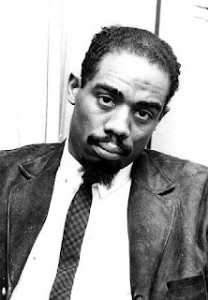 Eric Dolphy, multi-instrumentalist: jazz alto saxophonist, flautist, and bass clarinetist; redefined the limits of playing each, his sound is immediately recognisable in sax, there was no other playing flute the way he did at the time, and he established the bass clarinet as a jazz solo instrument, it having only rarely been featured up until then. An eternal legacy from such a tragically short career.
Eric Allan Dolphy was an only child born in 1928 to middle-class Panamanian-immigrant parents. Raised in L.A., he loved sports; his favourites were swimming and tennis. His musical tastes were eclectic, advanced and sophisticated: the classical music of Ravel and Debussy's Impressionism, and the serialism of Schoenberg disciple Anton Webern, vied for his attention with birdsong and pygmy yodelling from Central Africa.
Having taken up the clarinet aged seven, Dolphy added saxophone during his mid-teens, and also demonstrated a flair for oboe. A quiet and generous child with a precocious talent, a friend commented, "That Eric Dolphy is going to be great some day. All he does is practice and practice his clarinet." Recognising Dolphy's gift, his father built a backyard studio for him in 1955, where Dolphy would play and study from five every morning before school, often obsessively concentrating on a single note for days at a time!
His generosity was also commented on widely. Close friend, bass player Richard David said, "Eric was a beautiful people. Even when he didn't have enough for himself, he'd try to help others. I remember how he once bought groceries for a friend who was out of work, though he was just as much in need himself."
To his parents, Dolphy's dedication to music all seemed to point to a future in the Los Angeles Symphony Orchestra, but their ambitions were sabotaged by his music teacher Lloyd Reese, first alto player in Les Height's band, who shared his passion for jazz with the impressionable teenager, and from then on, his future was set.
Playing in big bands throughout his schooling, where he showed little aptitude outside music, Dolphy went on to direct his college orchestra, before serving in the Army and attending the U.S. Naval School of Music. There followed an influential period playing with trumpeter Gerald Wilson, plus a few attempts at leading his own groups, all the while discovering novelty in the many types of music he was listening to, gospel and blues, Latin, and Indian ragas, "I'll never stop finding sounds I hadn't thought existed."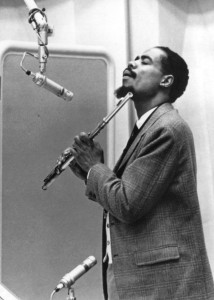 Early jazz influences included, Fats Waller, Coleman Hawkins and Duke Ellington, and above all else, Charlie Parker whom he worshipped, but also feared being thought of as just another Parker clone. He recorded his 1961 album Far Cry partly in tribute to Parker, but chose a title that also placed himself at some distance from his hero,"The title's meaning is that it's a far cry from the impact Bird had when he was alive and his position now. I wrote this to show that I haven't forgotten him or what he's meant to me. But the song also says that as great as he was, he was a far cry from what he could have been. And, finally, it says that I'm a far cry from being able to say all I want in jazz."
Coming to the fore at a time when the avant-garde "New Thing" was breaking away from its bebop roots, Dolphy managed to bridge the gap between Parker and Ornette Coleman, and he was well-versed in each. Far Cry was recorded on the same day as, and directly after playing on Coleman's Free Jazz: A Collective Improvisation.
While in Chico Hamilton's group, Dolphy's embellished soloing, with its squawks and squeals, jarred with the band's West Coast cool vibe, and it wasn't until he was leading his own quintet, comprising Freddie Hubbard (trumpet), Dolphy (alto saxophone, bass clarinet, flute), Jaki Byard (piano), George Tucker (bass) and Roy Haynes (drums), that he established a fitting context for his tone. Various takes from that session were used by Prestige on Outward Bound (1960), Eric Dolphy (1960), Dash One (1960), Status (1960), and Here And There (1961).
Equally right for Dolphy's sound, in the same year he rejoined with Charles Mingus, with whose 22 Piece Be Bop Band he had recorded in California as early as 1949. Their reunion was captured on the Mercury album Pre-Bird (1960), rereleased as Mingus Revisited(1964).
Mingus was notoriously difficult to work with and had an explosive temper. One story goes, "Harlan Ellison, during the early 1960s while working at "The Showplace" in Greenwich Village, witnessed a jam session involving Mingus, Charles Evans, Don Cherry and Eric Dolphy, in which Mingus punched Dolphy on the forehead, after the saxophone player had blown a really sour note on the saxophone. When Dolphy came round, he was sporting the lump on his forehead which can been seen in photos taken during his later years. Ellison also tells how, later that night, Dolphy played so well that Mingus approached him again, planting a kiss on his lips instead."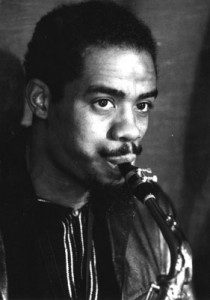 Also in 1964, Dolphy set out to tour Europe with the Mingus sextet. Finding more acceptance there than in the USA, he decided to extend his stay after the tour, prompting Mingus to name a blues in the repertoire, 'So Long Eric'. Dolphy performed and recorded with Donald Byrd and other American expats in Paris, and native Europeans, notably Misha Mengelberg and Han Bennink who would go on to found the Instant Composers Pool (ICP). He also had planned to play with Albert Ayler and Cecil Taylor, and form a band with Woody Shaw and Billy Higgins, but a septet date in Paris on June 11, with Byrd (trumpet), Dolphy (alto saxophone, bass clarinet, flute), Nathan Davis (tenor saxophone), Jacques Dieval (piano), Jacques B. Hess (bass), Franco Monzecci (drums), and Jacky Bambou (congas), would be the last recording that he would make.
Dolphy died in Berlin on June 29, 1964 from a coma caused by insulin shock, because he had not been diagnosed as being diabetic. The exact circumstance of his death is disputed: either, he had collapsed in his hotel room, and had received an insulin injection on arriving at hospital, or that he had collapsed on stage and taken to hospital where it was assumed because of his profession, that he had accidentally taken an overdose, and he was left untreated, for the drugs to wear off.
Whatever the details, his loss to jazz was immediately palpable, and he was shortly after inducted into the DownBeat Hall of Fame.
Considering Dolphy recorded for only four short years, there is a copious wealth of standout albums that he appears on that have passed into jazz legend. With Oliver Nelson: Screamin' the Blues (1960), The Blues and the Abstract Truth (1961), and Straight Ahead (1961). With Mal Waldron, he recorded The Quest (1961). With John Coltrane: Olé Coltrane (1961), Africa/Brass (1961), Live! at the Village Vanguard (1961), and Impressions (1963).
When Dolphy died, Coltrane offered, "Whatever I'd say would be an understatement. I can only say my life was made much better by knowing him. He was one of the greatest people I've ever known, as a man, a friend, and a musician." Dolphy's mother would gift her son's new, unused instruments to Coltrane and these can be heard on Coltrane's later recordings.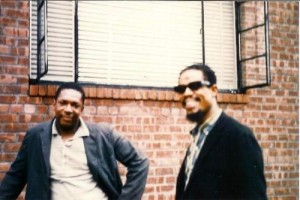 Two albums that Dolphy played on as sideman deserve special mention for their revolutionary influence on jazz. Composer George Russell's Ezz-thetics (1961) was essentially a post-bop gig for Russell (piano), Don Ellis (trumpet), Dave Baker (trombone), Dolphy (alto sax and bass clarinet), Steve Swallow (bass) and Joe Hunt (drums), but while the composer and theoretician knew how to make the music swing, he also drew upon ideas of the new avant-garde, allowing movement towards atonality. The dramatic reworking of Thelonious Monk's 'Round Midnight' is a showcase for Dolphy's elegant, edgy soloing.
he second album of note is Andrew Hill's adventurous masterpiece, Point of Departure (1964), with the stellar lineup of, Joe Henderson (saxophone), Dolphy (saxophone, clarinet, bass clarinet, and flute), Richard Davis (bass), Tony Williams (drums), and Kenny Dorham (trumpet). Unsurprisingly, the playing is exemplary, stretching to meet Hill's complex arrangements and precise time-signature shifts, and producing a shifting tapestry of richly-coloured layers, across which the soloists drift in-and-out of beat, pushing at the boundaries of form without ever quite breaking out into free space.
Despite the indelible mark that Dolphy left on these celebrated recordings, the album for which he is probably most remembered was recorded about a month earlier than Point of Departure, and carved out its own chunk of history. It is the almost mythical Out To Lunch (1964), again featuring Dolphy (bass clarinet, flute, alto saxophone), Davis (bass) and Williams (drums), but this time with Freddie Hubbard (trumpet), and Bobby Hutcherson (vibraphone).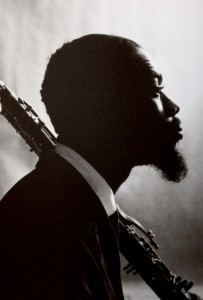 The mysterious secret to Out To Lunch is in the just turned eighteen-year old Williams' time keeping; as the idiom might suggest, it's as if he isn't paying much attention. Naturally, that couldn't be further from the truth, but the Mingus-inspired, erratic shifting of time signatures is what underlies the huge progressive leaps made by Dolphy's piece of music history. What a tragedy that the pioneer would be dead just four months later. The other element is that, akin to Coleman's "Harmolodics", simultaneous soloing creates a holistic whole where the music really is greater than the sum of its parts.
'Hat and Beard', Dolphy's pitter-patter tribute to Monk, tip-toes in unison, skirting a few dangers in it's path, but suddenly out breaks Dolphy's haughty, raunchy, rapid-arpeggio, bass clarinet solo, one of the most unexpected, electrifying and singular statements in music. As a result, it's all too easy to miss the astonishing rhythm slip-sliding around beneath, expanding and contracting in a raving tempo, rubato. In any other context, Hubbard's vibrato-fuelled response would shine, but here it can hardly hold a candle to what preceded.
Each instrumentalist is vital to Dolphy's cohesive vision, especially the arrangements combining and contrasting the horn section with vibraphone, and Hutcherson's dauntless atonality. His soloing is as revolutionary and innovative as Dolphy's, incessantly pushing his instrument to new levels.
The gospel ballad 'Something Sweet, Something Tender' begins with a deceptively conventional soul cry on bass clarinet, and big-band chorusing, until Dolphy's solo again pushes us sideways off our familiar perch. His summation in the penultimate minute skips on the way up the pulpit steps.
'Gazelloni' scampers forwards into Dolphy's breathy flute solo, and ends in a vibrato that segues beautifully into a pas de deux for Hubbard and Williams, capped by a great octave- spanning bass line. Nonetheless, once again Hutcherson seals the deal.
The title track is centred around a gossipy conversation grabbed in the workplace, between bass and vibraphone, full of inflection, interruption, and incredulity. The militaristic march introduction suggests a stern employer, Dolphy's alto, who barks some instructions before leaving. Hutcherson and Davis have a good old natter until their boss returns, perhaps from being out at lunch.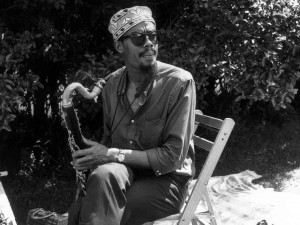 The sing-song 'Straight Up and Down' is a swinging sandwich. Williams' intense bustling and Dolphy's energetic alto, are the outer layers stuffed with a lullaby bassline, creamy vibraphone, and choppy trumpet. It's lunchtime! Although, it may be a liquid lunch; Dolphy said it reminded him of "a drunk walking".
Reid Miles' album art is iconic. a shop's door sign telling its customers that the proprietor, 'Will be back', and a clock face, with three hour hands and four minute hands indicating a whole range of possible times.
Out To Lunch is jazz avant-garde in the sense that that it helped open the door to one of the most challenging genres of music by breaking down familiar structures, but in this case not at the cost of composition and form; this is not an example of indeterminacy.
Producer Michael Cuscuna has studied the album intensely, "The material is so goddamn difficult. How could they play those fucking time signatures, how did they know where they are? The mastery with which they execute it is really astonishing. I was hoping for some alternate takes, but there aren't any – what there was made me feel a little more comfortable about these superhuman people. They were fucking up left and right until they got it! It wasn't as easy for them as it sounds!"
Videos
Eric Dolphy 1961 - Berlin
With John Coltrane 1961 - Germany
With Charles Mingus 1964 - Europe