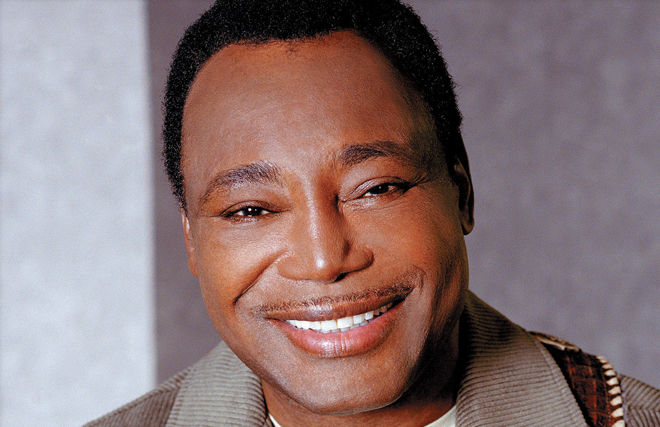 George Benson is without question one of the greatest guitarists of the modern era – and not just within the niche of being a jazz guitar player. His dexterity, ability to make his guitar sound beguiling, lyrical, and constantly appealing have all helped to make him one of the biggest sellers in jazz over the past six decades.
Benson was born and raised in the Hill District, the cultural center of African-American life in Pittsburgh, Pennsylvania. His home was at the heart of a thriving jazz scene, surrounded by several notable clubs frequented by excellent musicians and appreciative audiences. The eldest of six children, his family was poor, his mother worked as a hospital aide, and their house was without electricity.
Recognised to be a musical child prodigy at an early age, Benson's parents taught him how to sing, leading to him winning the seven dollar prize at a Fourth of July Celebration singing contest for his rendition of the popular hit 'I Need You', when he was aged only four.
When Benson was seven, his family moved into a house with electricity allowing their new stepfather, Thomas Collier, to retrieve his electric guitar out of hock. Benson immediately wanted to learn, but too small to hold a full sized guitar, Collier rescued and repaired a ukulele from a bin and began to teach Benson how to play.
"Lil' George Benson" was very soon working the streets of his local district at weekends, accompanying himself singing popular tunes, such as, 'Mona Lisa' and 'Sunny Side of the Street'. This could earn him up to $40 in one night, more than his mother made in a week. Hearing his act, the owner of the local Little Paris Nightclub, an unlicensed after hours establishment, made an offer equivalent to twice as much for him to perform on Friday and Saturdays. Benson's parents had to agree, but when the club was raided, Collier was arrested for letting his son perform at an adult venue, and Benson returned to singing on the streets.
Benson got his first guitar, costing $14, for Christmas when he was nine years old. Hearing him on a street corner, Eugene Landy and Harry Tepper, owner of a sandwich shop, "the home of the best pastrami sandwiches in Pittsburg", persuaded Benson's parents for him to manage Benson's career and escourt him to New York in search of a record deal. Tepper made good, and Benson recorded four R&B songs with RCA Victor's X Records subsidiary, who released the single "She Makes Me Made" / "It Should Have Been Me," in 1953. Despite some airplay, this phase of Benson's recording career was short lived: Harry Tepper moved to California, and recognising that he was getting drawn away, Benson's mother intervened,
"My mother saw what was happening and cut it all off just in time, so that I got the chance to be a child again … I have to give my mother credit for taking me out of the game when I was 11 years old. I was poor and raggedy, but I went back to school and got a little bit of an education and when I came out I got back into music."
Instead, Benson concentrated on his guitar, teaching himself to play along to Charlie Christian records, receiving second-hand tuition from a friend. By the time he was fifteen years old, he was yearning to own his own electric, but lacking money, Collier made one out of furniture for half the shop price.
Benson joined a friend's Doo Wop and R&B vocal group called The Altairs. Their popularity had soon outstripped the local schools where they had started out, and they were hired to back singer Anne Keith on her single "Lover's Prayer" / "Just A Lonely Girl" released on the Memo label, and went on open for the Miracles and Frankie Lymon. In 1959 they made their own single, signing with Amy Records, "If You Love Me / Groove Time" with Benson singing lead vocals. He was making $55 a week, but left to join the Four Counts the next year. School was dropped and he dedicated himself to full time performing and studying guitar. A group would meet on Saturday mornings to listen to the records of Wes Montgomery, Kenny Burrell, Grant Green, and Tal Farlow, and work out how to play the tunes.
It was hearing Charlie Parker's 'Just Friends' in 1962 that decided Benson to turn from being R&B singer to jazz guitarist,
"Here was a guy who, they claimed, 'was going to destroy jazz'. And, in fact, he did: jazz as they knew it. He changed the parameters, proved that African Americans could be a lot more intellectual than we had been given credit for, that we weren't just folk who relied on our instincts and thumped along to the gospel vibe. Parker was akin to Stravinsky in his intellect and he taught me a great lesson, which is that nobody is going to get love from across the board."
Benson's break into jazz and the source of his next great influence arrived when Brother Jack McDuff came to town to play The Starlight Lounge. Needing a replacement guitarist, McDuff allowed Benson to sit in which resulted in him being asked back to audition the next day. Benson played out the rest of McDuff's 2-week run and returned with him to New York.
Despite second doubts over Benson's playing ability, McDuff kept him on and while he wasn't prepared to let him sing for fear of distracting from the music, he did coach Benson in playing jazz. They recorded five albums together: Brother Jack Live (1963), The Dynamic Jack McDuff (1964), Prelude (1964), Recorded Live! In Concert Around the World (1964), and Hot Barbeque (1965), all on Prestige.
A slight reshuffle and Benson, still only 21-years old, led his first recording session backed by McDuff for the debut album, The New Boss Guitar (1964). The guitarist was beginning to establish his own sound, a soulful blues in Wes Montgomery tradition, a similarity that didn't escape talent scout John Hammond, when he heard Benson playing New York clubs in a trio with Lonnie Smith after he had left McDuff. Legend has it that a contract with Columbia was drawn up on a napkin, there and then, and they were in the studio a week later, recording tracks that would be used towards It's Uptown (1966) and the compilation Benson Burner, released a decade later.
His name was also spreading and it reached Miles Davis via Herbie Hancock who had recently played on Benson's lush Giblet Gravy (1968). Davis called Benson into the studio at short notice, along with, Wayne Shorter, Hancock, Ron Carter and Tony Williams, only to abort that, and the next date, without a note recorded, but eventually they did cut Shorter's 'Paraphernalia', satisfactorily enough for Davis to invite Benson permanently into the band, but he and his management had ambitions of a solo career. Benson would get a chance to play with Hancock and Carter again a short time later on his own, highly acclaimed debut for A&M under the guidance of Creed Taylor, Shape of Things to Come (1968), an exciting and powerful declaration that a rising star had arrived upon the scene.
Jazz critics reviled Wes Montgomery for selling out, and they would do the same to Benson, branding him a traitor for resorting to "commercial" recordings, but it was not originally in his making, nor initially to his liking,
"I would go on the road and return to find that a record I had started had been finished with all kinds of additions and elements that I didn't necessarily approve of, and mixed in a way that I did not like. The strings would be dubbed on top of my guitar, making a sideman out of me on my own records."
The person singled out as the guilty party in manipulating Montgomery and Benson, and subsequently sowing the seeds for the Smooth Jazz genre, ironically, is Taylor, first at A&M then at the helm of his own CTI label. Ironic, because while it wasn't to the jazz purist's taste, he nonetheless displayed great skill in balancing his musicians' artistic integrity with everybody's need for commercial success, and Benson undoubtedly benefited from his music being more widely accessible to a crossover audience. Furthermore, singing and sourcing popular material had been something he had always done, ever since a boy.
Seeing the road to success stretching into the future, Benson embarked on a series of albums steeped in soul, R&B and funk, often covering popular chart material: Tell It Like It Is (1969), The Other Side of Abbey Road (1970), Beyond the Blue Horizon (1971), White Rabbit (1971), Body Talk (1973), Bad Benson (1974), and Good King Bad (1975). And, the strings would often be added in later too, even to the otherwise live recording, In Concert – Carnegie Hall (1976).
A move to Warner brought Benson into contact with producer Tommy LiPuma who took Benson's crossover appeal and sent it stratospheric with the next album, Breezin' (1976) which topped the Pop, Jazz and R&B Billboard charts and turned triple platinum, while the Bobby Womack title track, written while in Gábor Szabó's band, and Leon Russell's 'This Masquerade' were both huge hits and broke into the top ten pop charts. Of note, LiPuma had produced the original version of 'Breezin'' for Szabó, who was less than complimentary about Benson's cover of his bandmate's song.
The Benson-LiPuma partnership was cemented over the following seventeen years as the focus switched to Benson's marketable vocals and producing hit singles written for him by the likes of, James Taylor, Smokey Robinson and Bill Withers. This period possibly reached it's zenith, or nadir depending upon your predilection, with the Quincy Jones-produced Give Me the Night (1980), while the transformation from guitarist to pop star probably culminated in the lyrics- and synth-dominated, While the City Sleeps (1986).
When LiPuma moved to the GRP label, to replace departing founders Dave Grusin and Larry Rosen, Benson went too, and without breaking stride, they continued their successful Smooth jazz formula with, That's Right (1996), Standing Together (1998), and Absolute Benson (2000).
Benson has been signed to Concord since 2006, and doesn't seem to be letting up making award-winning albums: Givin' It Up (2006), a collaboration with Al Jarreau, Songs and Stories (2009) which produced the hit single 'Living in High Definition', and Guitar Man (2011) which also produced a hit single, 'The Lady in My Life'.
Benson's latest project, at the time of writing, is Inspiration: A Tribute to Nat King Cole (2013), a heartfelt homage to Nat King Cole, another musician who began their career as an instrumentalist but also found fame for their singing. It makes no apologies for being a sentimental album. It opens with a recording of 'Mona Lisa' by an 8-year old "Lil' George Benson", and closes with a recording of the same song made by his 70-year old future self.
Benson also makes no apologies for being a romantic. He has specialised in playing smooth and sexy music with a warm guitar tone, and singing slow ballads. Critics of his musical choices thought they saw a change of career direction in those early days, whereas Benson has actually maintained a continuity from childhood until now, a continuity that is mirrored in his home life: a father of seven who has been married to the same woman, Johnnie, for 45 years, and has always been a religious man: he is a Jehovah's Witnesses and conducts Bible studies.
Another continuum has been Benson's search for perfection. Even today, after all that he has achieved, he remains self-critical and driven to succeed, "I've always hated rejection; I only want to go out there when I know I've got it right."
And this from a man who has had eight albums reaching number 1 on the Billboard Jazz and Contemporary Jazz charts: Bad Benson (1975), Collaboration (1987), Tenderly (1989), Love Remembers (1993), That's Right (1996), Standing Together  (1998), Absolute Benson (2000), Songs and Stories (2009), and as been awarded 10 Grammy's: Best Pop Instrumental Performance (1976), Theme from Good King Bad-Best Rhythm & Blues Instrumental Performance (1976), On Broadway-Best R&B Vocal Performance, Male (1978), Give Me The Night-Best R&B Vocal Performance, Male (1980), Off Broadway-Best R&B Instrumental Performance (1980), Moody's Mood-Best Jazz Vocal Performance (1980), Being With You-Best Pop Instrumental Performance (1983), Best Pop Instrumental Performance for Mornin' (2006), George Benson (& Al Jarreau), Best Traditional R&B Vocal Performance for God Bless The Child (2006), and Best Pop Instrumental Performance (2007).
Videos
With Jack McDuff, Antibes (1964)