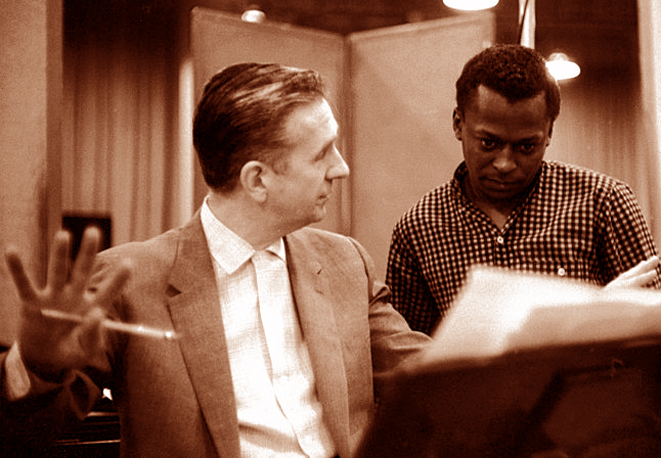 Gilmore "Gil" Ian Ernest Green or Ian Ernest Gilmore Green or Gilmore Ian Rodrigo Green, was born May 13, 1912, in Toronto, Canada, the son of Margaret Julia MacChonechy, a diminutive four-foot-something, creative and peripatetic, British Celt in her late forties. She would tell her son that she had travelled to escape poverty, marrying five times on the way, and his father had been the fourth, a Dr Green who had died in a local hospital fire, but also that he was a gift to her, found on a beach where he had fallen from a star. He had no reason to doubt any of it, but preferred to take the name of his stepfather, a miner called John A. Evans with whom they lived and followed throughout Canada and the US for work, before settling in Stockton, California, where Gil Evans' parents would separate.
While still young, it was noticed how Evans was particularly perceptive of sound, able to identify visitors from the sound of their cars and footsteps. This fascination was not immediately expressed, he initially achieved high grades at school, but during his final semesters Evans seemed to become preoccupied with music, playing in a band and tirelessly transcribing records, writing down songs and arrangements.
Evans was turned onto jazz by a friend's father who showed him basic chords on a basement piano, where he also had a drum kit and phonograph playing Duke Ellington, Louis Armstrong and Fletcher Henderson. An outing with his friend's family to an Ellington concert in 1927 sealed the deal.
For a sixteen-year old, Evans seemed independent of the limitations and responsibilities that family life put upon his peers, free to hold down a few part-time jobs and own an old and battered but stylish car. He played tea-time piano in the grand Hotel Stockton, ran gas canisters around town, and dabbled in scams, such as ferrying students to a particular Café, where the owner would slip him some pay on the sly. This way Evans earned enough money to buy records and mostly eat at restaurants. The first record he did buy was Louis Armstrong and Earl Hines' 'No One Else But You'.
Evans' first band was formed in 1933 and quickly grew from sextet to nonet. They played the arrangements he had transcribed, songs by Don Redman, Ellington and Henderson. In 1935 they had made enough progress to be on the same bill at the Palomar Ballroom as Benny Goodman, and then clinch a residency with Evans writing and conducting, at the Rendez-Vous Ballroom in Balboa Beach, in southern California, that lasted until 1938, sometimes with Stan Kenton at the piano.
A series of gigs followed for the group including, backing the singer Skinnay Ennis, and being house band for Bob Hope's NBC radio show in Holywood. The arranger Claude Thornhill was then brought in from working with his own orchestra, and he and Evans became good friends, so that when Thornhill's orchestra arrived on tour in 1941, Thornhill returned to New York with them, and Evans was not far behind.
WWII and the draft interrupted their plans. Evans was posted to various army bands to mainly play bass drum. Other than crossing paths with an utterly downtrodden Lester Young in Augusta Georgia, his only other significant experience was encountering a new music called bebop.
Picking up where they left off before the War, Evans retuned to New York to arrange for Thornhill's reformed orchestra, and moved into a small furnished basement at 14 West 55th street, that became a drop in place for an extended group of fellow musicians, composers and theorists, mingling, hanging out and swapping ideas, "It had a piano and a bed and a record player and a tape player," he said. "I rented the place for two years. I never knew who was going to be there when I got home and I didn't care". Regulars calling by were, Gerry Mulligan who ended up moving in permanently, Lee Konitz, Dave Lambert, John Carisi, George Russell and John Lewis. Charlie Parker mostly came to sleep, accompanied by his trumpeter, Miles Davis.
Thornhill and Evans had a vision of forming an orchestra like Thornhill's, but one that played bebop. They first thought of Parker as the leader, but Davis was more suitable, plus Evans wanted permission to arrange Davis' 'Donna Lee' and Davis wanted a look at Evans' scores.
A nonet emerged out of these discussions in 1948, French horn, trombone, tuba, trumpet, alto and baritone sax and rhythm section, to play the arrangements based on Evans' "fast and light and no vibrato" blueprint. The band had an airing at the Royal Roost on 47th street, adding up to three radio broadcasts, now included on The Complete Birth of The Cool remastered and released on Blue Note, along with the original dozen studio sides that they cut in 1949 and 1950 for Capitol. Musical history had been made.
Having married Lilian Grace in 1949, Evans withdrew to study and occasionally write for singers and TV and radio, and briefly with Charlie Parker in 1953, but it wasn't until 1956 that he got another big break when he arranged Helen Merrill's sublime Dream Of You for EmArcy, and then got a call from Davis that would lead to a succession of brilliant albums, Miles Ahead (1957), Porgy And Bess (1958), Sketches Of Spain (1960), and Quiet Nights (1962).
The second and only other time Evans and Davis performed live was at Carnegie Hall in 1961, with Hank Mobley, Wynton Kelly, Paul Chambers, and Jimmy Cobb, and the Gil Evans Orchestra. The repertoire was a familiar mixture of standards and show tunes included in the Quintet's live set, plus Joaquín Rodrigo's Concierto de Aranjuez from Sketches Of Spain, Ahmad Jamal's New Rhumba from Miles Ahead, and Sonny Rollins' Oleo which had been rerecorded several times in the studio, appearing on the Miles Davis Quintet (1954), Bags' Groove (1957) and Relaxin' with the Miles Davis Quintet (1958).
High profile performances such as this added to the acclaim for Evans' genius arranging which in turn afforded the opportunity to record his own albums, albeit with smaller outfits: Gil Evans And Ten (1957), New Bottle, Old Wine (1958) with Julian "Cannonball" Adderley, its follow-up Great Jazz Standards (1959), Out Of The Cool (1960) and The Individualism Of Gil Evans (1964). Other albums he arranged during that period were, Guitar Forms (1964) with Kenny Burrell, and Look To The Rainbow (1966) with Astrud Gilberto.
His marriage hadn't survived this busy period, ending in divorce. In 1963 Evans got married again, to Anita Cooper whom he had met the year before. As before, he retired into home life during which time their two sons were born, Noah in 1964, and Miles in 1965. Little was heard from him for the following four years, but no doubt, if for no other reason, a shortage of income forced him back to work.
The sales of Davis' albums alone should have bought Evans some much needed long-term security in the volatile music business, but he received limited royalties, instead being paid a couple of thousand dollars each time in arranging fees. The tragedy would be that for his whole life he was never really free of financial worries. It didn't help that he seemed as unwilling to make compromises in his music to meet his audience's expectations as Davis ever was. Instead of mellifluous sentimentality, Evans moved forwards, particularly interested in integrating the sonic palettes on offer from electrified instruments. Svengali (1973) is one of the best recordings to capture the skilful way in which he balances and combines acoustic and electric instruments.
Evans' dream of collaborating with Jimi Hendrix ended with the guitarist's premature death just as he was broadening his musical horizons, hanging out with Miles Davis who had introduced them, and jamming with jazz musicians at his Electric Lady Studios, on West Eighth Street, people like Larry Young, Dave Holland and John McLaughlin. Left with only Hendrix's music, Evans' would release The Gil Evans Orchestra Plays the Music of Jimi Hendrix (1975), an instrumental album of his songs that brilliantly integrates rock and jazz elements, with guitarists John Abercrombie and Ryo Kawasaki filling some very large shoes.
Turning away from the studio and seeking larger audiences, Evans would keep this balance of musical genres in his touring orchestra of up to fifteen musicians, moving away from brass and woodwind towards rhythm and electric instruments, and usually performing at least one Hendrix song in each concert, often Little Wing or Stone Free. On occasion, the event would be built around a guest soloist, for example, John McLaughlin at Ravenna in 1986, and Sting at Perugia in 1987.
From 1984 until his death, Evans and his Monday Night Orchestra played weekly at the Sweet Basil club in New York, and the atmosphere at their performances can be relived via, Live At Sweet Basil, volumes 1 & 2 (1984), and Bud And Bird (1986), the latter winning his one-and-only Grammy Award, for Best Jazz Instrumental Performance, Big Band. Also in 1986, Evans was inducted into the DownBeat Jazz Hall of Fame, as well as scoring movie soundtracks for Absolute Beginners and The Color Of Money.
One of Evans' final engagements was working once more with Helen Merrill on Collaboration (1987), thirty years after their previous studio album. The results were inspiring and poignant in equal measures. Shortly after he recorded another album of duets with Steve Lacy, released as Paris Blues (1988), three months before he died of pneumonia on March 20, 1988 in Cuernavaca, Mexico.
Henry Lowther, a trumpeter in Evans' band during his final years, said, "Gil was an absolutely lovely man. He was modest and unassuming, but he was terribly disorganised and a chaotic bandleader. It was notoriously difficult to get music out of him. Sometimes, he'd turn up at the studio with a few scraps of paper, and sometimes he wouldn't have anything at all. Most of the pieces he gave us were one-chord jams with no organisation. It was a bit of a free-for-all, and musicians tend to take advantage of that to release their egos and thrust themselves forward. That was a bit disappointing, although there's no doubt in my mind that Gil was the most important writer in jazz history after Duke Ellington."
Videos
Gil Evans Orchestra & Miles Davis (1959)
Gil Evans Orchestra 1975 - Antibes
Gil Evans & Jaco Pastorius 1984 - Japan