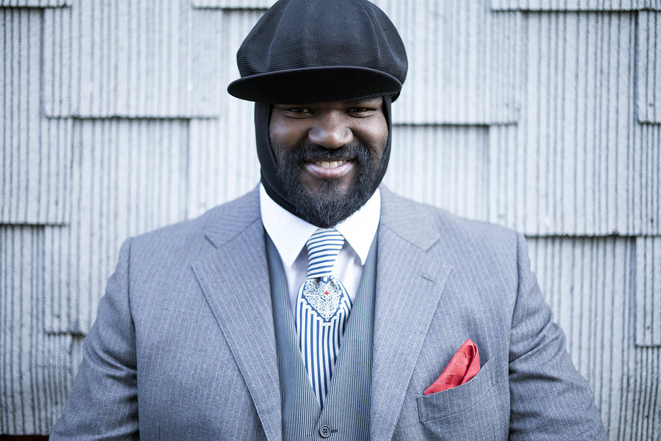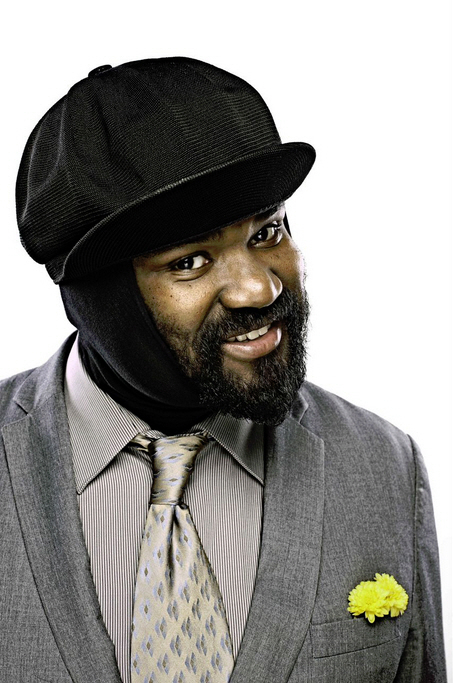 Gregory Porter was born in Los Angeles in November 1971, the seventh child of eight to Ruth, a single mother who worked in real estate as well as being a nurse. She was also a "storefront minister", which involved adopting disused buildings and using them to preach the gospel. It is clear that Ruth was a formidable woman who had a profound influence on her family. She didn't shy away from challenges, instead actively seeking a series of tough neighborhoods. "She'd say, 'I wanna go where the dirt is, and we saw some things as children we probably shouldn't have seen: needles, prostitutes. She didn't shield us."
Porter's early childhood was spent in Exposition Park, until his mother moved the family to Bakersfield, California. There, he sung in amateur productions and in pieces staged by the church, "that's where I first became aware of music and singing. You know Bakersfield was full of workers from the south, from Texas and Arkansas, and they brought their gospel and blues with them. And that's the sound I grew with".
Recognising a talent, his mother arranged a concert, even going as far as printing tickets with Porter's name emblazoned, but that was enough to trigger a paralysing case of stage fright and the gig was cancelled. Despite this innocent setback, he was surrounded by music and was unwittingly yielding to its influence. Only in retrospect would he be able to identify the path that it had already defined,
My grandfather was a minister; there are a bunch of ministers in my family. Gospel music was very prevalent in my house. My mother also loved Nat King Cole. That was some of the first music that I heard. Mahalia Jackson, Nat King Cole and the Mississippi Mass Choir.
Indeed the significance of especially Nat King Cole would only become apparent to Porter years later. Not only had Cole been a favourite of his mother whose singing she had recognised in her son's, but as he was to discover only at his, largely absent, father's funeral, they also shared his talent,
He was this charismatic preacher-singer-painter. He was in the military. These are all the things I found out at his funeral. You know, after he divorced my mother, he came around but not often … There were touchstone moments – a Christmas here and a birthday there. He'd promise to show up at three o'clock but not get there until nine or ten at night.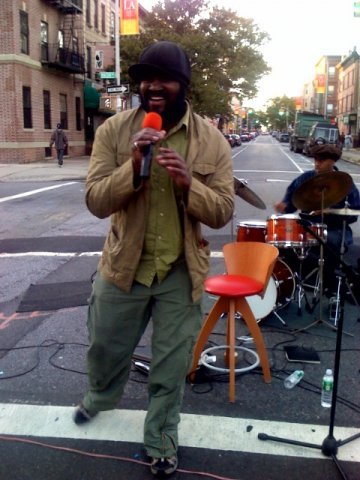 Qualifying to attend San Diego State University, Porter received a football scholarship, but severely injured his shoulder during the first semester. His football days were over, but he was allowed to keep his scholarship and continue his studies in urban planning. However, with no football, he needed alternatives to fill his spare time. He began to study theatre and made use of the university music library. He also started going to jazz clubs and sitting in on jam sessions. In short, he found his voice, a rich, earthy baritone.
About the same time, further tragedy hit. His mother fell ill,
She had cancer, breast cancer. And she – on her deathbed, she had a couple days left. And we were talking about everything, you know, children and what I'll do with the rest of my life … she said to me, she's like, you know, Gregory, singing is one of the best things you do, so don't forget about that as well. And in a way, she kind of just, like, gave me this surprising nudge. She said, sing, baby, and let your hair down, you know.
The loss of his mother has always remained with him. Initially, Porter spent two or three years mourning her death, and it was during this time that music became a kind of solace. To realise why it was jazz music that drew him, and how his own singular style emerged, would take more soul searching. Porter now recognises that three people have been his main influences: his mother, naturally; his absentee father; and, Nat King Cole.
My grandmother and my mother and my grandfather, their style of praying was – all day long, they would pray by singing and humming. And some of the notes that they were hitting – I was acquainted to jazz saxophone players and … My grandmother and Coltrane did have a connection. And my mother also loved Nat King Cole … I have to give my mother all the credit and love that she is due, but I also have to give my father some thanks for my creativity. I'm almost certain, genetically, it comes from him. Listening to the people who talked at his funeral, they said, "Man, he could just write anything, paint anything, think of anything. He would come up with words we hadn't even heard of." So I'm certain my creativity — and, if I have stage charisma — it comes from him. My singing voice comes from him.
So it seemed that everything was pointing him in the direction of being a jazz vocalist, with a certain timbre reminiscent of another mellifluous baritone. Plus, there is the pleasing coincidence when concatenating their surnames, Cole and Porter!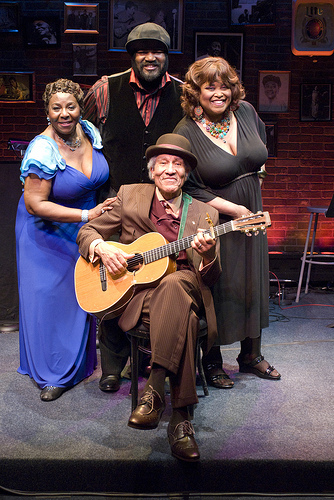 Moving to New York, Porter landed a role in the musical, It Ain't Nothin' But the Blues which ran on Broadway before touring in the late 1990s. After that, he struggled to find enough work in recording sessions and at small gigs. But his theatre knowledge came in useful again when he was inspired to write his own musical he called Nat King Cole and Me: A Musical Healing which enjoyed two very successful months at the Denver Center for the Performing Arts. Through the writing process and performing the work, Porter was able to tackle some of the hurt he had experienced by being denied a relationship with his father,
it's the story of my childhood and how I came to Nat King Cole's music so strongly in the absence of my father. It was like seeing his image in this, you know, this elegant, handsome, strong man, sitting by a fire, looking like somebody's daddy.
The husband-father rôle is clearly important to him. A recent daddy himself, Porter has the added motivation to succeed for his Russian wife and year-old son with whom he shares their family home in the Bedford-Stuyvesant district of Brooklyn, "I think what I'm doing is building a future for him".
The most notable studio appearance that Porter had made to date was the one song that he had sung, appropriately, on a tribute to Nat King Cole by Hubert Laws. Porter was therefore nearly forty years old when he made his debut as a solo artist, recording the album Water (2010). He doesn't think his age a disadvantage, maintaining that you must experience life before you sing it, "Sing with understanding.' I don't want to blow my gift on nonsense. I like voices which are seasoned, and I was waiting for some seasoning in my life. Well, I sure got some!".
His mother's illness, his own injury and slow recovery, a break-up after a long-term relationship prior to his marriage, have all informed his lyrics. It wouldn't be overstating it to say that he sees experiential songwriting as a calling, "I think part of my job as a songwriter is to go back in my memory and pull up those pains for other people".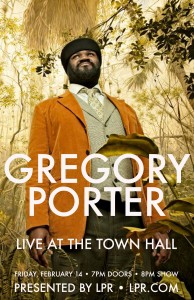 This honest approach has certainly reaped rewards. Water received a Best Jazz Vocal Grammy nomination (which is very unusual for a debut recording) and leapt to the #1 spot on both iTunes and Amazon in the UK. Indeed it is in Europe, mostly the UK, where Porter is most popular. Several key broadcasts and events have featured him, such as, Jamie Cullum's BBC radio program, Later with Jools Holland, the London Jazz Festival and Carole King's BBC holiday television special. Water also made #1 Jazz Album in Jazz Wise magazine, making it the first vocal album to do so.
Porter's second album, Be Good (2012) soon followed and its title track was also nominated for a Grammy Award for Best Traditional R&B Performance. But, even though both these albums were very well received, and no doubt would have satisfied the ambitions of many jobbing musicians, what happened next eclipsed everything. Next, came Liquid Spirit (2013).
Back before the ecstatic reception for Liquid Spirit and his days of stardom, Porter would accept any offers of residencies and overseas tours. When home he continued to write songs and help out at his brother's coffee shop. Principle job, making soup. His black bean turkey chilli soup and a recipe for borscht, that he brought back from eastern Europe, proved particularly popular. Porter sees an interesting connection between his two passions,
I think of music in the same way I think about food, in the serving aspect – you put a plate of food in front of a friend and it feels good, they're nourished. I think about music like that. And the things that I'm good at are these nourishing things.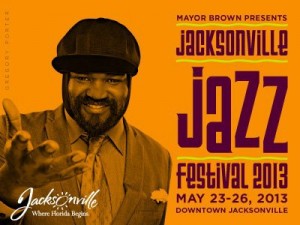 All the while since releasing the debut album, his reputation had been growing, so that by the end of 2012, word of his huge talent had reached Wynton Marsalis, who invited him along as a guest performer for "A Classical Jazz Christmas" with the Lincoln Center Orchestra. It was a high point for Porter during a period when a sufficiency of engagements was not always guaranteed. Now things are quite different. Well, he has more offers of work. Many more, yet he loyally keeps the same backing band he met at jam sessions years ago, stating that they are integral to his music.
Liquid Spirit, his third studio album, this time had won the Best Jazz Vocal prize at the 2013 Grammy Awards. It was his second appearance in a category typically dominated by the likes of Nancy Wilson and Diana Krall. but wielding some genre-blurring magic, the slow-rolling 'Hey Laura' was also nominated for Best Traditional R&B Performance against songs by Fantasia and Gary Clark Jr.
The crossover appeal of some albums is often surprising, Take, for example, Robert Glasper's surprise win of Best R&B Album Grammy for Black Radio (2013) and, at the time of writing, its follow up Black Radio 2 being nominated in 2015.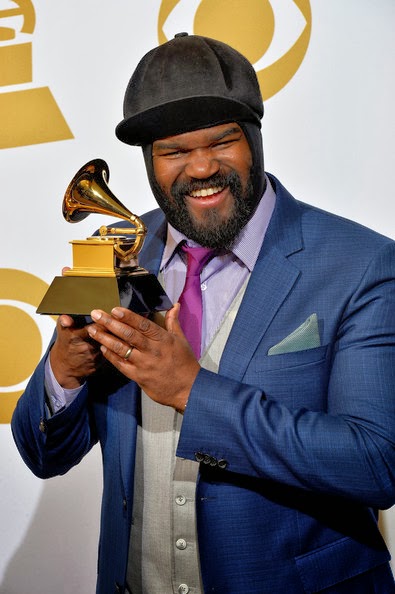 Trying to understand Porter's appeal outside jazz, it is must be partly explainable by the involvement of his producer on Be Good and Liquid Spirit, Brian Bacchus, who, most notably, also produced Norah Jones' jazz / pop / soul / country blockbuster Come Away with Me, and several other crossover artists, such as Terry Callier and Cassandra Wilson,
Gregory is the real deal and a revelation in terms of new male jazz singers, but I think that his voice coupled with his songwriting may be the thing that leaves most listeners with their mouths open. There have been many solid singer songwriters coming from under the jazz umbrella of the last 10 years that are mostly brimming with folk and country influences. Gregory is the first that I'm hearing that is squarely coming out of a real classic soul bag (i.e. Bill Withers, Curtis Mayfield, Donny Hathaway) as a songwriter, but with both feet firmly planted in jazz's soil.
Furthermore, Porter seems not to limit himself with any specifics, "good music is good music". If he does associate himself with any particular type of music, then it's with modern musics' common ancestor, "I hear it in my sound, I hear it in Elvis Costello's, I can sing the blues and I have sung the blues. I feel it internally when I'm singing."
So, perhaps at the foundation of his ongoing success is Porter's philosophy about music, and its healing power, and the way it can bond people. That's probably nourishment enough.
And the "jazz hat"? Well, along with his dapper attire, what started out as a cover for skin surgery, has become his trademark. When asked about it now, Porter simply says, "It's just my thing".
Videos
Greg Porter 2007 - Brooklyn
Gregory Porter &The Metropole 2012
Gregory Porter 2014 - Estival Jazz Lugano