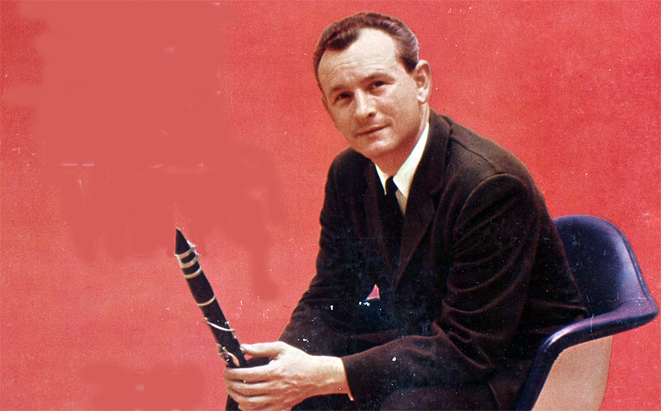 Giuffre, born in Dallas, Texas in 1921 began by playing and studying the clarinet in 1930. Graduating from North Texas State University in 1938, he studied composition at the University of Southern California. During military service, he played in the Army Air Force Orchestra in 1944, before playing in the orchestras of Boyd Raeburn in 1946, Jimmy Dorsey in 1948 and Buddy Rich in 1950.
It was Stan Getz who recommended Giuffre to Woody Herman, and the clarinetist's composition, 'Four Brothers' became a hit, and a jazz standard, leading to a string of engagements as an arranger with Woody Herman's Third Herd (1950), Shorty Rogers' Giants (1951), Howard Rumsey's Lighthouse All-Stars (1951–1952) and the Modern Jazz Quartet (1957).
The first time he recorded for a Granz label was as part of Herb Ellis' septet on the 1956 Norgran album, Ellis In Wonderland; later that year he also worked with Anita O'Day and Buddy Bregman. In 1956 he formed the Jimmy Giuffre 3, the first of a series of trios, initially with guitar and bass. Conjuring a folksy feel from Lester Young's style, Giuffre had a hit with 'The Train and the River'. The same tune opens the 1958 film "Jazz On A Summer's Day", this time with the unusual lineup of valve trombonist Bob Brookmeyer and guitarist Jim Hall. His first Jimmy Giuffre 3 album for Verve was recorded in early 1959 and entitled Seven Pieces. Later that year he recorded, Anita O'Day Sings Jimmy Giuffre Arrangements, as well as recording again with Herb Ellis and an album with Leo Konitz. Arguably the highlight of his career with Verve was Thesis (1962) recorded by a trio that featured pianist Paul Bley and bassist Steve Swallow.
Despite these successes, from 1963 Giuffre worked mainly as a composer and in education, particularly at Rutgers University, New Jersey, and the New England Conservatory for Music, Boston. During the following decades, Giuffre performed and recorded infrequently, often with further diverse trios. Ever the experimenter, he started playing flute and soprano saxophone late in life, and reunited with Bley and Swallow in 1992 to record new material. He died aged eighty-six with complications due to Parkinson's disease.
Videos
Jimmy Giuffre Three 1957 Sound of Jazz
Jimmy Giuffre Three 1958 - Newport
Jimmy Giuffre Three 1959 - Rome