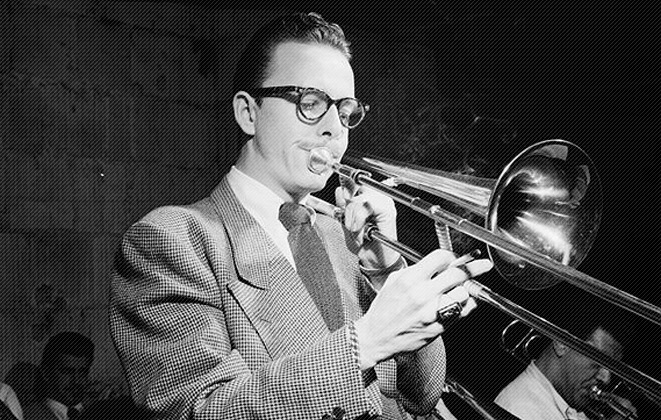 Born in Aarhus, Denmark in 1922, Kai Winding's family emigrated to the United States when he was twelve years old. He started playing accordion then trombone, joining the bands of Shorty Allen, Sonny Durham and Alvino Rey. After service in the Coast Guard for three years where he played in the band, Winding joined Benny Goodman's group for three months, then toured with Stan Kenton from 1946 to 1947, his sound being adopted by the whole trombone section.
'I'd bring Kai Winding, Zoot Sims and Kenny Dorham on the stand. There wasn't a set with the trio when we didn't compose on the spot.' – Mary Lou Williams talking of Bop City in 1950
In 1948 he worked with Charlie Ventura and then formed a small unit with singer Buddy Stewart. From then on, Winding was mainly based at the Royal Roost, 1580 Broadway in New York City, and the spin-off jazz club Bop City, but found time to participate in Miles Davis' The Birth Of The Cool recording sessions in 1949.
A highly successful quintet with fellow trombonist J. J. Johnson predominantly filled the years from 1954–56, promoting the trombone as a jazz instrument. During the latter half of the 1950s and into the 1960s, Winding led a four-trombone sextet (1956–1961), then his own septet, also with four trombones. From 1962 he was music director for the Playboy Clubs in New York, and also wrote jingles and film scores. He recorded a number of albums for Verve during the 1960s including Mondo Cane #2 (1964), the track for which it was named becoming a hit on the Billboard singles chart a year after the Claus Ogerman-arranged 'More' from Soul Surfin (1963) went to No. 8.
He played in the Merv Griffin Show studio band until 1972, before working with the Giants Of Jazz – an all-star group with Dizzy Gillespie, Sonny Stitt and Thelonious Monk. In 1977, he retired to Spain and concentrated on writing and playing European festivals, but also formed a duo with Curtis Fuller in 1979, and once more toured with J. J. Johnson in Japan in 1982, before passing away a year later.
Videos
Jazz Giants 1971 - Tivoli
Kai Winding 1971 - Rotterdam
Kai Winding & J.J. Johnson 1982 - Japan