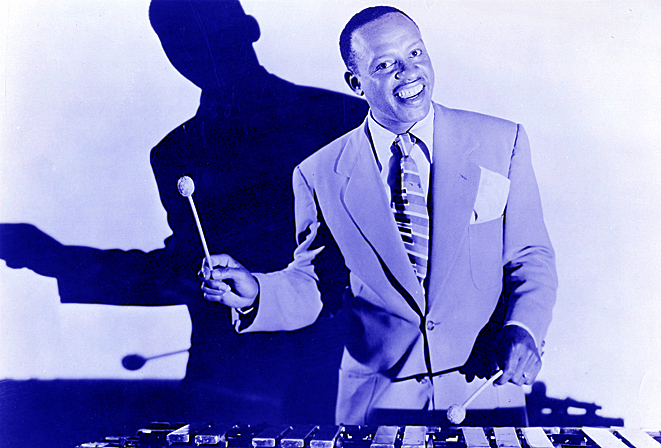 Lionel Hampton was born in Louisville, Kentucky in 1908 and he was initially a drummer, starting out with the Chicago Defender Newsboys' Band. He also received some tuition at the nearby Vendome Theater where his drumming hero and part-time xylophone player Jimmy Bertrand was appearing. Hampton learnt some piano before moving to California in 1924 where he played drums with a number of local bands, including Reb's Legion Club, the band with which he made his first recording in 1924.
'Working with Benny was important for me and for black musicians in general.' – Lionel Hampton
By 1930 he was with Vernon Elkins, who had the resident band at the Cotton Club in Culver City. They backed Louis Armstrong at the club in 1930 as well as on some recording sessions where, on one occasion, a vibraharp, or a vibraphone, happened to be in the studio. Hampton was relatively familiar with the unusual instrument so Armstrong asked him to play on "Memories Of You" – Hampton became the first jazz improviser to record on vibes.
Hampton went on to organize his own band, essentially because it was the only way he could get to play the vibes. However, he was 'discovered' when Benny Goodman walked into the club one night in 1936 and he and his band members, Gene Krupa and Teddy Wilson ended up jamming with Hampton until 5 a.m. the following day. Hampton then recorded as part of the Benny Goodman Quartet, and six weeks later he officially joined Goodman's band on vibes, as well as drumming and singing. Between 1937 and 1941, Hampton also started recording regularly as a leader of sidemen from other top bands.
In 1940, he left Goodman to lead his own big band that over the next two decades featured among others, Clifford Brown, Dexter Gordon, Fats Navarro, Clark Terry, Art Farmer, Quincy Jones, Charles Mingus and Wes Montgomery. The band initially became famous following the release of their theme song, "Flying Home" for Decca in 1942 that featured Illinois Jacquet, but also for their exciting performances.
After his Top Ten hit "Rag Mop" in 1950 and for the next dozen or so years, Hampton toured his big band all over the world. He played with JATP in 1954, having first recorded as part of a Norman Granz session for Clef in 1953 and later that day as The Lionel Hampton Quartet that featured Oscar Peterson, Ray Brown and Buddy Rich. The following year, he recorded a series of albums with the same quartet lineup, as well as one where Buddy DeFranco was added on clarinet. In 1955 he was even busier, undertaking big band sessions, as well as albums with Stan Getz, Art Tatum, Buddy Rich, Gene Krupa, Harry Edison and Barney Kessel.
He worked with smaller outfits into the 1960s and '70s, when he managed to revive his big band once more. Hampton's career spanned three-quarters of a century, during which time he excelled as a bandleader, vibraphonist and drummer, as well as being an accomplished pianist and singer. On 31 August 2002, at age ninety-four, Hampton suffered major heart failure and died.
Videos
Snader Telescriptions (1951)
La Grande Parade du Jazz (1979)