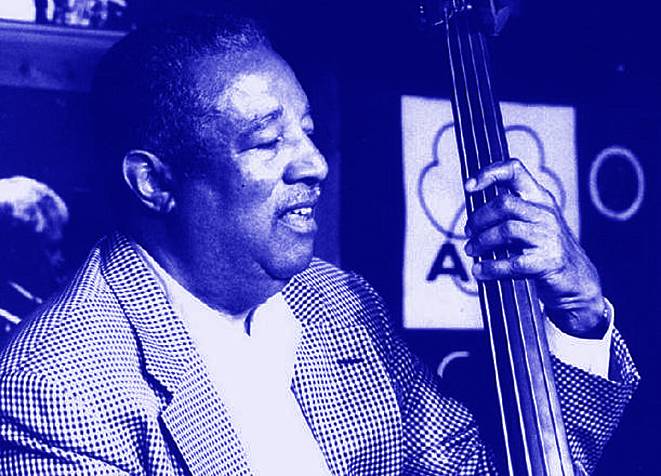 Born in Pittsburgh, Pennsylvania in 1926 Brown began playing piano when he was eight years old, but switched to bass when he applied to play in the school band; learning there were too many pianists and being unable to afford a trombone, he noticed a bass was spare. By the time he was a teenager, Brown had formed a quintet and played his first professional gig in 1943. His main influences at this point were Duke Ellington, Ben Webster and bass legend Jimmy Blanton.
'Ray Brown, on bass, played the strongest, most fluid and imaginative bass lines in modern jazz at the time.' – Dizzy Gillespie
In 1944, Brown spent six months with Jimmy Hinsley, and toured with Snookum Russell before being seduced by the stories of 52nd Street, and moving to New York in 1945. On his first night in the city, Brown bumped into Hank Jones. Jones introduced him to Dizzy Gillespie who was looking for a new bass player. Brown then found himself standing alongside Charlie Parker and Bud Powell, and recording classics such as "Night In Tunisia".
In 1947 he played his first JATP tour and recorded "Perdido" that featured on Jazz At The Philharmonic Vol. 8. He made his first recording for Granz later that year, backing Flip Phillips and Howard McGhee. In 1948 he married Ella Fitzgerald, whom he had met on tour with Gillespie, also becoming her musical director and accompanist. They divorced in 1952, after having adopting Fitzgerald's half-sister's son.
Sessions for Ray Brown in 1949 included Bud Powell, playing on "The Bird" with Charlie Parker that appeared on The Jazz Scene (1949), and as a duet with Oscar Peterson at Carnegie Hall when the pianist made his surprise debut; he was a member of Oscar's band up until the mid-1970s. To list every Ray Brown session for a Norman Granz label would require a small book; he is probably featured on more Verve recordings than any other musician.
In 1966, Brown settled in Los Angeles, building a successful career in music for television shows, concert production, artist management and playing bass for Frank Sinatra, Tony Bennett and Sarah Vaughan. He also got to realize an ambition to play with Ellington, together recording the tribute album, This One's For Blanton (1972). Brown was awarded a Grammy award for his composition "Gravy Waltz", which was used by comedian Steve Allen as his theme tune.
Most of the 1980s and '90s was spent teaching music, and playing and recording in a trio with pianist Gene Harris and drummer Jeff Hamilton. In 1994, Brown played on Diana Krall's second album, Only Trust Your Heart (1995). He died in his sleep, while napping after a round of golf, his favourite pastime, before he was due to play a concert that evening.
Videos
With Ella Fitzgerald (1957)
Ulf Wakenius Project (2000)