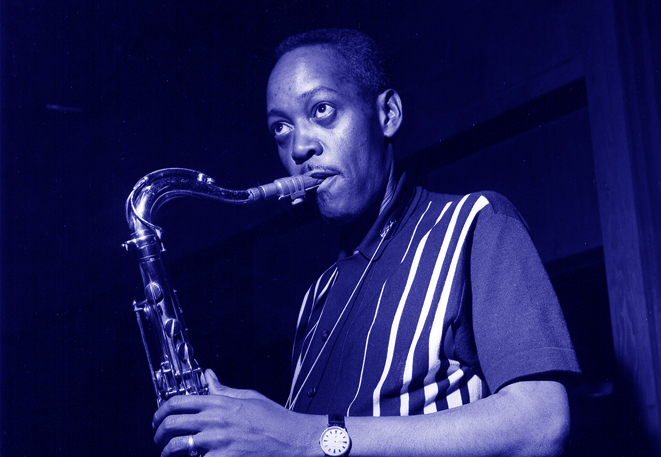 Born in Boston Massachusetts as Edward Boatner Jr in 1924 his father was a music teacher, his brother a concert pianist and sister a singer, Sonny Stitt studied piano from seven years old, then clarinet and alto saxophone. He was an alto saxophonist in Tiny Bradshaw's band in 1943 to '44, encountering Miles Davis and Charlie Parker. Meeting the latter, both he and Parker were equally astonished by how similar their styles were; Stitt always claimed that he had developed his sound independently, and had done so prior to hearing any of Bird's recordings. Nonetheless, several early Stitt solos were almost note-for-note imitations, and the close comparisons remained until Stitt began favouring his tenor over the alto.
'He was a true road warrior and blowing demon to the end, never failing to provide a lesson to any younger player who dared to test him on the bandstand.' – jazz journalist Bob Blumenthal.
Stitt went on to join Billy Eckstine's big band in 1945, playing for eight months before becoming a key figure in the New York bebop movement where he played with Dizzy Gillespie's big band and sextet (1946), before forming his own group with Eddie 'Lockjaw' Davis and Gene Ammons, with whom he had played in Eckstine's group, thrilling the audiences with their 'tenor battles'.
Stitt recorded prodigiously throughout his career, on average, several discs each year. Early albums with Bud Powell and J. J. Johnson in 1949 on the Prestige label, and for Verve, with Dizzy Gillespie and Stan Getz on the technically brilliant For Musicians Only (1956) only scrape the surface of the many combos Stitt performed with and often led over the next decade, concluding in an appearance with guitarist Sal Salvador in the 1958 film "Jazz On A Summer's Day", and finally rejoining Gillespie for a short period in the late 1950s.
After a brief stint with Miles Davis in 1960 when he was brought into the Quintet to replace John Coltrane, Stitt reunited with Ammons and for a while played in a three-tenor lineup with James Moody. After leading several more bands into the early 1970s, he joined the 'Giants of Jazz' – a group comprising Gillespie, Blakey, Winding, Monk and McKibbon – and continued to play and record until he suffered a heart attack and died in 1982.
Videos
Giants of Jazz 1971 - Copenhagen
Dizzy Gillespie Quintet 1974 - Belgium