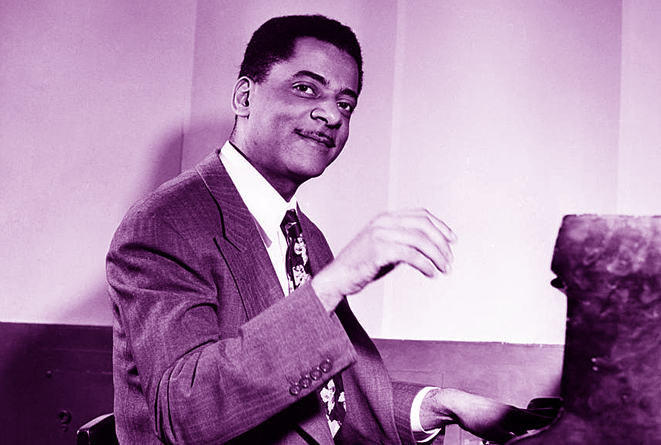 Born in Austin, Texas in 1912, Teddy Wilson spent four years studying piano and violin at Tuskegee University, Alabama, and majored in music theory at Talladega College, Alabama, before his first professional engagement in Detroit with Speed Webb in 1929. In 1931, he replaced Art Tatum in the Milton Senior Band, before passing through the bands of Erskine Tate, Clarence Moore and Eddie Mallory.
'I don't want to sound immodest, but what musicians like myself play is Ph.D. music compared to the nursery-school sounds of a lot of rock and roll.' – Teddy Wilson
Wilson recorded with Louis Armstrong in 1933; later that year he recorded with Benny Carter and his Orchestra in New York as well as the Carter-led 'Chocolate Dandies' for the European market. In 1934 Wilson recorded some solo piano sides and worked for the first time with the Benny Goodman Orchestra. Then in early 1935 he recorded and went on the road with Willie Bryant and his Orchestra.
On 2 July 1935 Wilson and 'his Orchestra' recorded with Billie Holiday for the first time. Benny Goodman, Roy Eldridge and Ben Webster were also on the session that included 'What A Little Moonlight Can Do'; it was the start of a fruitful period for both Billie and Teddy. The following year, Wilson worked with Benny Goodman and Gene Krupa as a trio that later expanded to include Lionel Hampton. As well as numerous sides with Billie Holiday, Wilson recorded with Lena Horne, Ella Fitzgerald, Thelma Carpenter and Helen Ward.
After forming his own short-lived band in 1939, he spent much of the war years working at Café Society, where he earned the nickname "Marxist Mozart" because of his support for left-wing causes. After working with Goodman's band in the late 1940s, he became a teacher at the Juilliard School in New York in the early 1950s. By 1955, he was recording with Norgran and did a number of albums for Verve over the next three years, including his performance at the 1957 Newport Festival. Among his best albums for Verve is one with Lester Young that reunited the two old friends who had first recorded with Billie Holiday in 1937.
Once the 1930s had passed however, Teddy Wilson was not a fashionable pianist. His reputation has been maligned over the years with some critics suggesting his playing lacked depth, but his importance as an accompanist should not be underrated. Although his style never really changed, he is still for many the archetypical jazz piano player, one who was able to tease out a melody with sparkle and verve. Wilson played around the New Jersey area where he lived for much of the 1960s and 1970s and died in 1988.
Videos
Teddy Wilson Trio 1963 - Chicago
Teddy Wilson & Earl Hines (1965)
Jazz at the Philharmonic (1967)