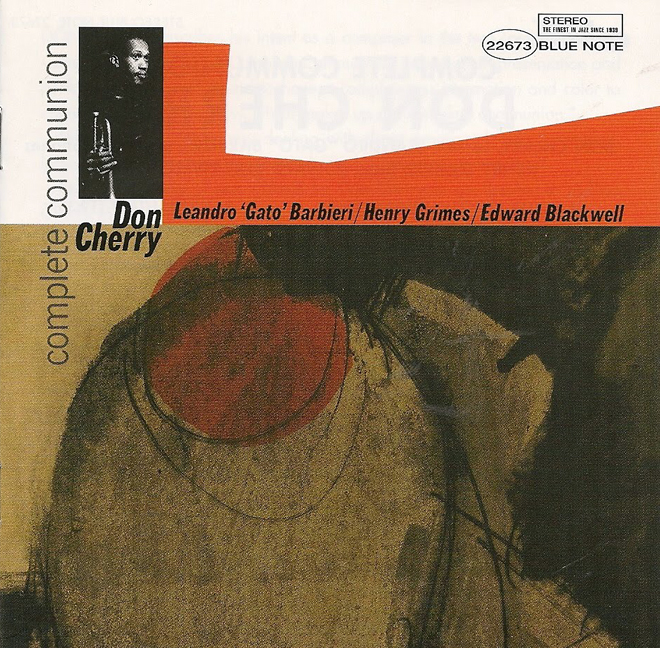 Christmas Eve isn't the obvious date for a Blue Note recording session but it was the night before Christmas in 1965 when Don Cherry, Gato Barbieri on tenor saxophone, Henry Grimes on bass and Edward Blackwell were at Rudy Van Gelder's studio in Englewood Cliffs to record Complete Communion.
It marked cornettist Don Cherry's debut for Blue Note – the first of three albums Cherry cut for the label in less than 12 months. The 29 year-old had already recorded extensively with Ornette Coleman's group and led a couple of sessions for other labels, but this was his personal breakthrough and something of a breakthrough for the whole free-jazz movement.
Each side of the original long-playing record is a suite composed by Cherry and each suite was recorded in a single take, although not the first in either case: side one, 'Complete Communion' was take two and side two, 'Elephantasy' was take three.
'Volatile', 'intense', and 'crackling' have been used by critics to describe this record and the words are completely apposite. This is jazz for the homes of the brave, music that many non-musicians will find challenging, but those up for the challenge will ultimately be richly rewarded. As Billboard said in their obituary of Cherry in 1995, "By mid-decade, Cherry's association with Gato Barbieri begot Complete Communion for the Blue Note label. It's one of jazz's best examples of confluence, a brash, persuasive blend of expressionism and orthodoxy."
As themes are explored in the pieces, whether by the whole group or individual soloists, they often sound like conversations between the various players; the dialogue between Cherry and Barbieri, who had met while the latter was living in Rome, is particularly striking. The Argentinian tenor saxophonist style has been likened, during this period, to that of Cherry's former boss, Ornette Coleman, and that no doubt was part of his appeal. But Cherry is most definitely a man with his own ideas, which is evident from his later recordings as a bandleader.
Grimes and Blackwell – the rhythm section – were, like the other two musicians, both new to the label, making this a unique recording for Blue Note. This album reflects the changing face of jazz during the mid-1960s, and its free-jazz style would become the norm as the decade wore on.
Listen on Spotify Buy on iTunes