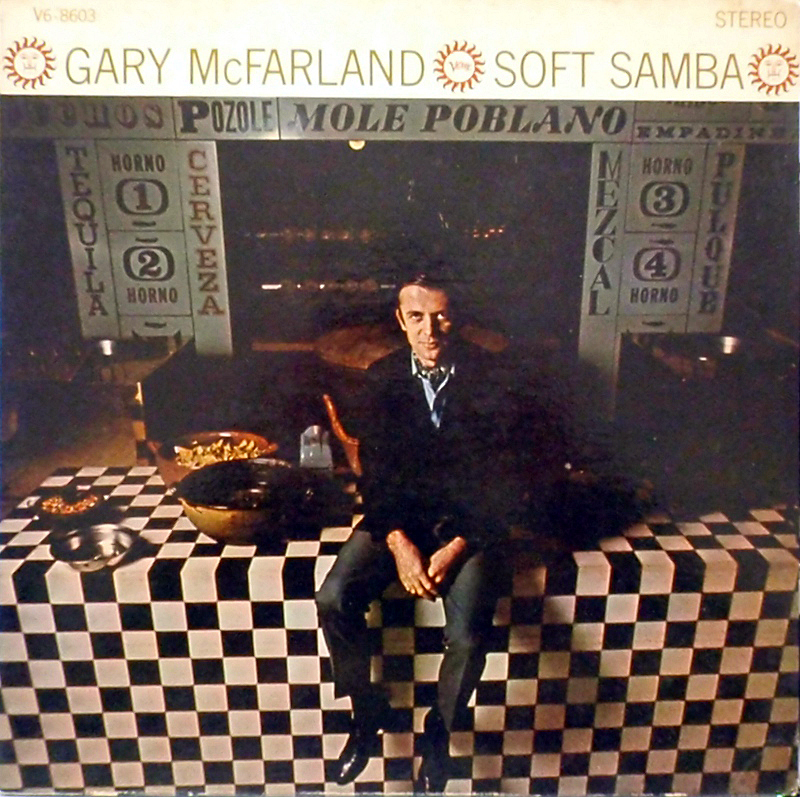 During his tragically short life Gary McFarland became one of the most important jazz orchestrators and arrangers of his generation. Born on 23 October in 1933, it was while he was in the army that he became interested in jazz and after flirting with the trumpet and piano he settled on the vibes and when he left the military he got a scholarship to Berklee School of Music where he lasted just one semester.
Among his first assignments was for the Gerry Mulligan in July 1961 when he worked on the Verve album, Gerry Mulligan And The Concert Jazz Band Present A Concert In Jazz as an arranger. In October he was billed as The Gary McFarland Orchestra on the fabulous album, Anita O'Day – All The Sad Young Men. The following month he was given the chance to record as Gary McFarland and His Orchestra for a jazz take on the music from the Broadway musical, How To Succeed In Business Without Really Trying. He was 28 years old.
In 1962 Bob Brookmeyer employed his talents as a vibes player on the trombonist's album, Trombone Jazz Samba. But it was in August that Gary achieved his commercial breakthrough when he recorded Big Band Bossa Nova with Stan Getz. With all things Brazilian being all the rage there was a plethora of albums jumping on the bossa bandwagon, but this album stands out as one of he finest, not least because of McFarland's arrangements but also because of Stan the Man and the other fine NY session men that included Clark Terry on flugelhorn, Hank Jones on piano, Jim Hall on guitar and trumpeter Doc Severinsen.
In early 1963 Gary reached what some consider to be the pinnacle of his achievements as a composer and arranger on an album simply called, The Gary McFarland Orchestra/Special Guest Soloist: Bill Evans. If you've never heard this record it is well worth seeking out. It's like a score for an unmade movie, only it's better than that. It's evocative, musically sublime and stands repeated listenings.
In 1964, shortly after staging his ballet, Reflections in the Park, Gary recorded Soft Samba for Verve that included some of the earliest orchestral covers of Beatles tunes – this, remember, was just a few months after their groundbreaking appearance on the Ed Sullivan Show. The album proved a big seller, but it came at a price. Many in the jazz community dismissed it as a travesty and it harshly affected Gary's reputation for his earlier achievements.
On the positive side the success of Soft Samba allowed Gary to put a band on the road that included, guitarist Gabor Szabo, saxophonist, Sadao Watanabe, bass player, Eddie Gomez and drummer Joe Cocuzzo. They toured American clubs during the summer of 1965 and recorded another album in the same vein as Soft Samba.
In 1966 he returned to arranging for large scale orchestras and recorded an album called, Profiles, which featured Clark Terry, Bob Brookmeyer, Zoot Sims, Phil Woods and Gabor Szabo. He did an album with Szabo of Beatles covers, the soundtrack for a David Niven film and wrote and arranged The October Suite for pianist Steve Kuhn. He also recorded Waiting Game for impulse, which featured saxophonist Zoot Sims with strings.
In 1968 McFarland, Szabo and vibe player Cal Tjader formed Skye Recordings and all three recorded for the company while McFarland acted as A & R man. By 1971 Gary was working on Broadway and film work when he tragically died. On 2 November he and a friend were in a New York bar when Gary drank a cocktail laced with liquid methadone. He suffered a fatal heart attack and was declared dead when he reached hospital.
It really is a case of what if? He was one of the most talented arrangers and composers of his generation and was just 38 when he died.