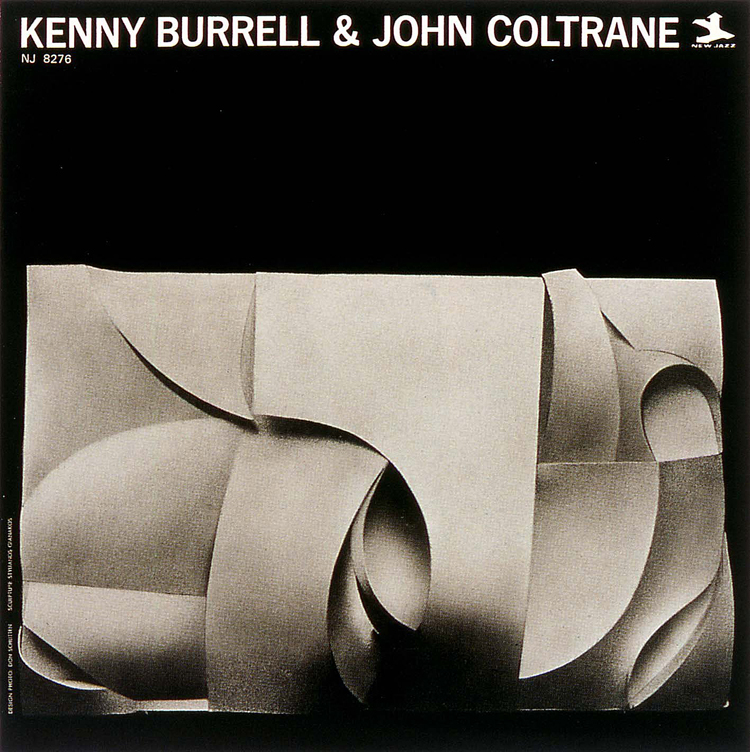 A sometimes overlooked album by both Coltrane aficionados and fans of Kenny Burrell, this record, from 7 March 1958 was first released in 1967 and given that it was cut Rudy Van Gelder's studio it has all the hallmark's of his recording technique. Aside from 'Trane and Burrell it features Paul Chambers (bass), Jimmy Cobb (drums), and Tommy Flanagan (piano). It was originally released as Kenny Burrell Quintet With John Coltrane on Prestige it was reissued on Original Jazz Classics as Kenny Burrell and John Coltrane.
The five cuts are excellent and include two Flanagan compositions, two standards from the Great American Songbook, and a Kenny Burrell original. Flanagan's 'Freight Trane' opens things up with Coltrane and Burrell immediately to the fore as you would expect. Burrell, especially, is on top form and both Chambers and Coltane respond in kind; interestingly two halves of this track were released on a Prestige 45 – the heady days of jazz singles.
The Gus Kahn and Ted Fio Rito standard 'I Never Knew' has Burrell's fingers working over time with his playing more closely following the melody of the original before Coltrane takes things further afield. Burrell's 'Lyresto' starts with Coltrane before moving to Burrell and then Flanagan takes over as the lead player. It's a track chock full of ideas; it is one of the standout numbers on the album.
The beautiful, 'Why Was I Born' is sublime with Burrell and Coltrane creating an intimate reading of Hammerstein and Kern's exquisite composition, made more so by the fact that the saxophone and guitar duet alone. It is perfection itself.
The absolute highlight of this recording is the fourteen minute long Flanagan tune, 'Big Paul.' Flanagan's trademark stylish playing on the long intro sets the scene accompanied by Chambers and Cobb.
If this has passed you by, give it a listen; it will be 37 minutes well spent.