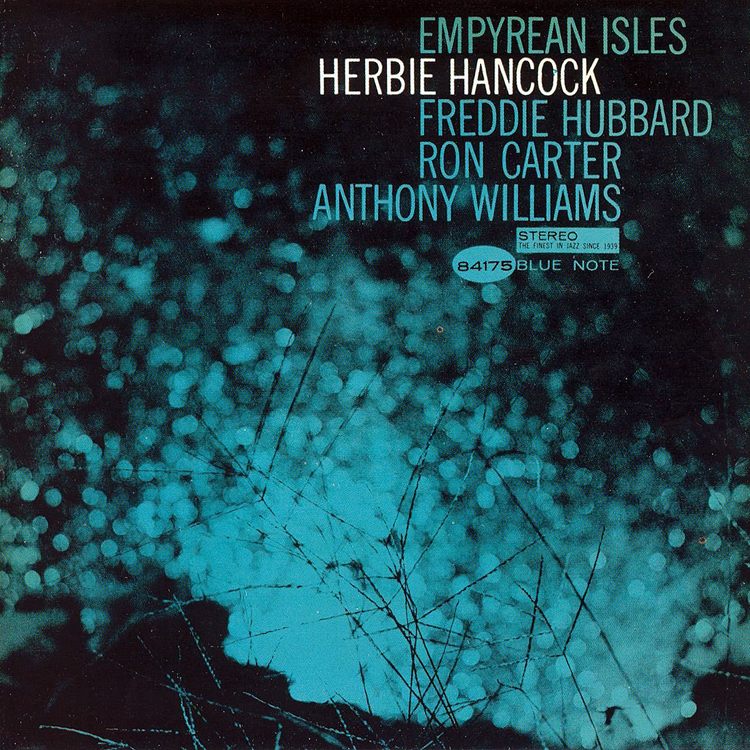 When Herbie Hancock, Freddie Hubbard, Ron Carter and Tony Williams entered Rudy Van Gelder's Englewood Cliffs studio on 17 June 1964 it represented a step change in every respect. This was two years after Herbie's Blue Note debut, the aptly named Takin' Off, and the album they recorded in the summer of 1964, together with the follow-up, Maiden Voyage, should certainly be in every jazz fan's collection.
Herbie's first recording for Blue Note was with Donald Byrd in 1961, when the pianist was twenty-one, and at the time he was flirting with both Latin-flavoured material and a big-band setting. Empyrean Isles marks Herbie Hancock's return to some serious hard bop. As with all his work, there is an element of the unconventional, with the pianist happy to go against the tide of musical expectations.
When he made this album, Herbie was twenty-four and his fellow musicians were similarly youthful – Hubbard was twenty-six, Carter twenty-seven, and Tony Williams just nineteen. It's their spirit of adventure that makes this record such a joy, but this is not simply youthful exuberance: there is no less talent on display despite their collective inexperience. Herbie, Carter, and Williams were already playing together in Miles Davis's group and their empathy is clear in every bar and beat.
All four tunes are original compositions from Herbie and both 'One Finger Snap' and 'Cantaloupe Island' have become classics. The album was later sampled by hip-hop band Us3. On 'One Finger Snap', its opening track, Hubbard is definitely in the driving seat, his soaring cornet full of twists and turns, yet always melodic. From the hard-bop heaven of the opener to the addictive 'Cantaloupe', the range of the band is remarkable – this is funky stuff that has rightly become a jazz standard.
On 'Oliloqui Valley' Hubbard is playing in Miles Davis's territory and it is a beauty. The album's closer, 'The Egg' is a fourteen-minute hard-bop meets free-jazz experiment featuring Carter's pulsing bass and Williams's march-like rolls. To get into the track requires a little more effort than what went before, but it just serves to highlight what an adventure this high-summer session turned out to be.
As Nora Kelly wrote on the original album liner notes "Empyrean Isles, four glittering jewels, beyond the dreams of men….Myth and legend clothe these Isles in mystery, for they are elusive and said to vanish at the approach of ordinary mortals…."
"They may be my tunes, but the music belongs to the guys in the band. They all make the music, it's not just my thing." Herbie Hancock
Listen on Spotify