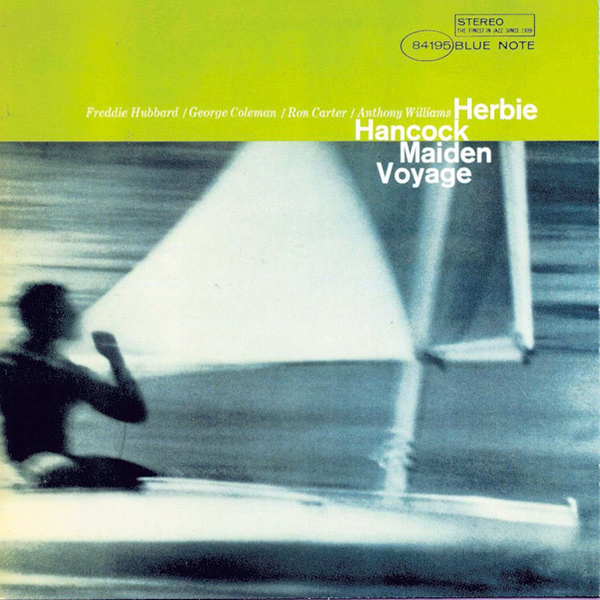 On 11 March 1965 Freddie Hubbard (trumpet), George Coleman (tenor saxophone), Ron Carter (bass) and Stu Martin (drums) along with Herbie Hancock were at Rudy Van Gelder's Studio in Englewood Cliffs, New Jersey with producer Alfred Lion to record the pianist's new Blue Note album. The first song they put down was 'Maiden Voyage, followed by 'Little One' and 'Dolphin's Dance', but in the final analysis these tracks were rejected as unsuitable.
Six days later on 17 March Hancock was back in the same studio and this time he cut not just a defining album in his career, but a defining album for Blue Note Records and jazz. Whereas there was something missing at that first day's recording nothing was missing, not a note, not a nuance, there was simply perfection. For their second attempt at recording Herbie's five compositions it was Tony Williams rather than Stu Martin (Sonny Rollins's drummer at the time) that was behind the drum kit.
Maiden Voyage is Hancock's follow-up to Empyrean Isles, and is an album that is totally different in form and feel, aside from the obvious addition of tenor saxophonist George Coleman who, like most of the others, had been playing in Miles Davis's band for the previous two years. Departing from the hard bop of Hancock's 1964 album Maiden Voyage is more mellow, with gentle composition that have more of a chamber-jazz vibe – it has even has been called a sound sculpture. But do not for a minute think this makes it in any way less exciting; this is innovative musical exploration of the highest order. Hancock's time with Miles Davis comes across in his playing, but in no way is this simply a pastiche of Miles's music. Just listen to the closing crescendo on 'Survival of the Fittest': it owes more to Rachmaninoff than Miles Davis.
The album's title track was originally titled 'TV jingle' until Jean Hancock, Herbie's sister, renamed it, and it sets the tone and the theme for the album. Ironically, many years later, the track was used in a TV commercial by Fabergé sometime later. It is a composition that many artists have covered, including Dianne Reeves who recorded an interesting vocal version in 1996, and pianist Robert Gasper whose fabulous interpretation is on his 2007 Blue Note album, In My Element.
Side 2 opens with the album's most experimental piece, 'Survival of the Fittest' that perfectly reflects the album's concept – an evocation of 'oceanic atmospheres'. 'Dolphin Dance' is the other genuine classic on this record, deservedly so given Hancock's skilful writing and equally skilful playing throughout. It's a tune that offers subtle shifts and changes in both key and the interplay between the soloists. Maiden Voyage is as perfect as an album gets.
Released on 17 May 1965 it has gone on to become one of Blue Note's most loved releases and it is an album that no self respecting jazz collection should be without.
Listen to Maiden Voyage on Spotify and buy it from iTunes