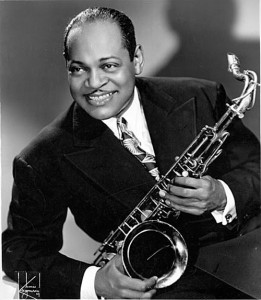 Coleman Hawkins – Hawk to his many fans – did more than any other musician to establish the tenor saxophone and it was on this day in 1969 that he passed away. He was a suave, elegant and sophisticated player – the very antithesis of what mmany consider a jazz musician to be; although his love of drinking ensured he fulfilled that particular cliché. 'Bean' was a powerful, passionate and original tenor player who lived in London and toured Europe for five years during the 1930s, helping to spread the word that is jazz.
The eighteen-year-old Hawkins became one of Mamie Smith's Original Jazz Hounds – billed as 'The Saxophone Boy'; he recorded with Mamie in May 1922, before leaving her band to settle in New York. In August 1923 he was with Fletcher Henderson's Orchestra, the start of a long running relationship with what was the premier Black orchestra of the day. At the same time he recorded with were Bessie Brown, the Chocolate Dandies, Fats Waller and McKinney's Cotton Pickers.
In September 1933 Coleman went into the studio with his own Orchestra for the very first time. The following year, somewhat unusually for an American musician at this time his next recording date was to be in London. Henderson's band had been due to tour England, but it fell through, leading Hawkins to make contact with British bandleader Jack Hylton to arrange a visit for just himself.
Billed as 'King Coleman Hawkins' the European trip was supposed to be a short, but Henderson kept extending his stay to play; recording in Paris, Zurich and Amsterdam , as well as performing in Denmark and Belgium. In Paris he recorded with Stéphane Grappelli and Django Reinhardt before his final European appearances with Jack Hylton in London in May 1939. With war looming Hawk headed home and got an orchestra together to begin a residency at Kelly's Stable, in New York. On 11 October 1939 he recorded the sublime, 'Body and Soul', which just about everyone at the time, and since, have agreed is perfection. It was one hell of a way to put every other aspiring tenor sax player on notice that he was back.
His band played the Savoy Ballroom and the Apollo Theatre in Harlem, but it was not the way to present Hawkins or his music, as he had none of the showman qualities to pull off these kinds of gigs. By 1941 he was working with a small group and feeling much more comfortable playing in Chicago and the Midwest. In 1946 he appeared on the Jazz at the Philharmonic tour, the first of many that he undertook.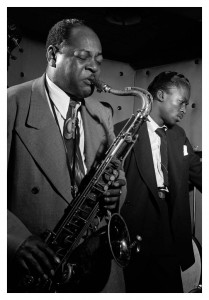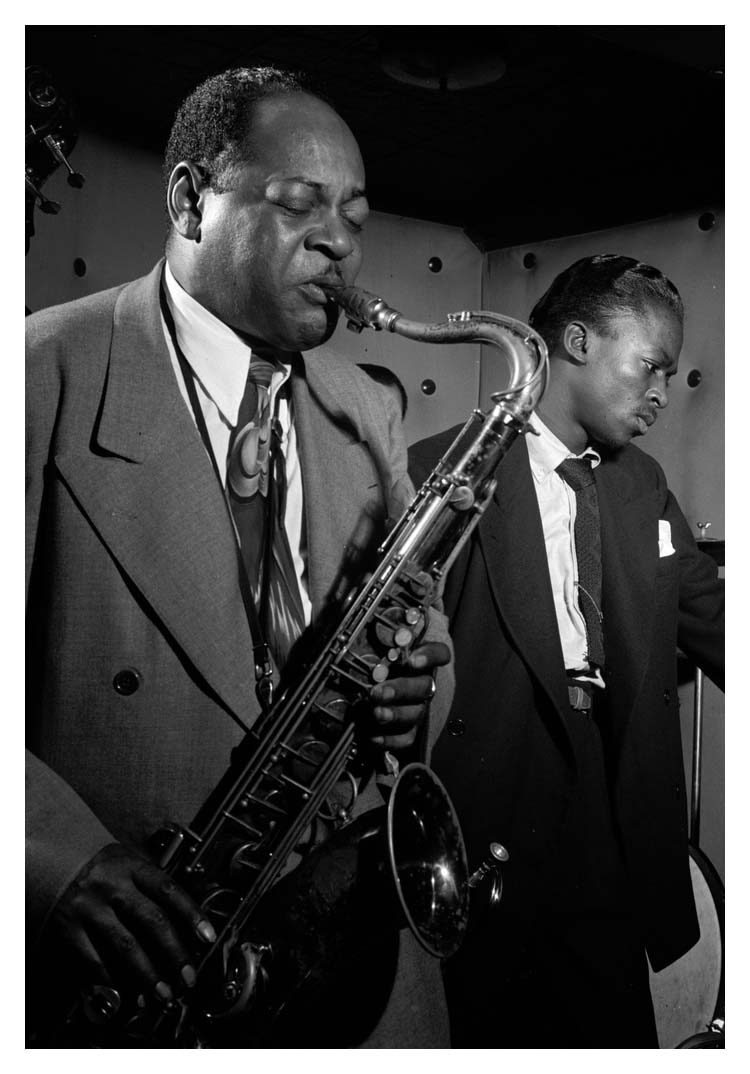 As the fifties came around, and approaching fifty, Hawk embraced the role as one of jazz's elder statesmen. He was quick to tell people about Miles Davis before almost anyone was aware of him. He had worked with some of the rising stars, including Dizzy Gillespie and Max Roach, playing some of the earliest Bebop recordings.
Because of his JATP shows he was asked to record for Verve. The first session was actually the live show at The 1957 Newport Jazz Festival before the first studio session at Capitol's Studio in Hollywood in October of that year backed by Oscar Peterson, Herb Ellis, Ray Brown and Alvin Stoller. The songs the cut became 'The Genius of Coleman Hawkins', and every tune proves the point. Later that day they were joined by another tenor sax great and the result was 'Coleman Hawkins Encounters Ben Webster'. Not a bad day at the office.
By the early Sixties Coleman's style was not seen as hip by those that thought themselves tastemakers but he still recorded some interesting albums, including, Duke Ellington Meets Coleman Hawkins. He still continued to perform, especially in New York City's clubs and on tours. Finally the life of a hard drinking jazzman begun to catch up with him and in 1967 he collapsed while on stage in Toronto. By December he was appearing one last time in Britain with his old friend Oscar Pettiford's band at Ronnie Scott's club. He played just once more, in Chicago in April 1969, but a month later he was dead at just 64 years old.
If you do nothing else today then listen to the 'Love Theme from Apache' and 'Body and Soul'; Bean's first solo on Apache tells you everything about what made him so vital and indeed, a Genius. The world will seem like a better place after you've savoured them.